Flood disrupts Minot water supply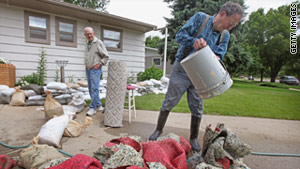 Gordon Valgren, right, cleans debris from his flood-damaged home Monday in Minot, North Dakota.
STORY HIGHLIGHTS
Minot, North Dakota, residents are under orders to conserve water
Floodwaters apparently broke a water main on Monday
Flooding also is affecting Burlington, North Dakota
Is severe weather happening where you are? Share your story.
(CNN) -- Residents of flooded Minot, North Dakota, remained under orders to limit their water use Tuesday, a day after rushing floodwaters apparently broke a main water line, a city spokesman said.
Utility crews were able to wade to the site of the break and divert the water flow, but it would likely be Tuesday night or Wednesday before they could install a new line to restore normal flow, said Dean Lenertz, a spokesman for the city.
About a third of Minot's population of nearly 36,000 has been evacuated due to record flooding from the Souris River, which bisects the city.
The main north-south route through the city, the Broadway Bridge, has been closed to traffic other than emergency vehicles and those involved in the flood fight, leading to traffic jams, Lenertz said.
"It's a two- to three-hour commute in the mornings and evenings to get from one area to another," he said.

Floodwaters crest, fears remain

Flooding called heartbreaking
The Souris crested over the weekend at nearly 13 feet over flood stage. It has since fallen about a foot but remains more than 2½ feet above the previous record flood from 1881, according to the National Weather Service.
Lenertz said it will likely be at least a week, perhaps two, before residents of the estimated 4,000 homes flooded in the city will be able to return home and assess the damage.
Residents of Burlington, North Dakota, are also being affected by flooding, but not from the Souris. There, the water being released from Garrison Reservoir into Missouri River is causing the problems.
About 4,000 people have been forced out of about 800 homes there, according to iReporter Mark Armstrong, who is a Burleigh County commissioner.
Flooding problems have been ongoing there for five weeks, he said.
FOLLOW THIS TOPIC