STORY HIGHLIGHTS
Paul Bridges is among the plaintiffs in a lawsuit against Georgia's new immigration law
The Uvalda, Georgia, mayor has received hate mail because of his stance
Some of his closest friends are undocumented immigrants
Bridges: "I decided to be the mayor for everybody, including people who have no voice"
Uvalda, Georgia (CNN) -- Paul Bridges leans toward his desk, picks up the phone and punches in a number with the fast, laser focus of a man on a mission. The mayor of this tiny town in South Georgia is ready for battle -- and looking for a new weapon.
"I need some help getting a website," he says, spelling out the words of the domain name he wants for a site promoting immigration reform.
The man on the other end says he'll try to help. But that isn't enough for Bridges.
"I really don't know what your beliefs are on this issue," he says, "but I'm going to persuade you."
Bridges wants the federal government to come up with a solution that gives the millions of undocumented immigrants in the United States a chance to work here legally.
"You get me an invite to that Tea Party meeting and I'm going ... I'd like to give the contrary viewpoints. Surely one person in the audience is going to be sympathetic."

Georgia immigration law foes protest

April: Georgia passes immigration bill
Bridges is an unlikely soldier on the front lines of the nation's immigration debate. The 58-year-old native Southerner describes himself as a conservative Republican. For years, he knew little about immigrants but didn't lack strong opinions about them: "They were just low-class people," he recalls. "They weren't even able to speak English."
Bridges' English is laced with a folksy drawl; he tosses out phrases such as "heck no" and "that just flew all over me." But he can switch into the singsongy Spanish of a Mexican farmworker. And he counts immigrants among his closest friends.
Bridges is one of more than a dozen plaintiffs suing Georgia and its governor, trying to stop the state's new immigration law. They won a reprieve Monday when a federal judge temporarily blocked parts of the law scheduled to go into effect July 1.
Judge blocks key parts of Georgia immigration law
One of those sections would criminalize exactly what the mayor of Uvalda does almost every day: knowingly driving a car with illegal immigrants as passengers. The judge also put on hold parts of the law that allow police to ask about immigration status during investigations of criminal violations.
But the legal fight is far from over. It could drag on for months and reach the chambers of the nation's highest court. It's a struggle that pits Bridges against many members of his own party and could hurt his political future. But that doesn't stop the mayor.
Common thread present in challenges to immigration law
In public speeches and opinion articles, he slams state lawmakers for creating an unfunded mandate that he says will burden police and devastate farmers who depend on immigrant labor in their onion fields and berry groves.
Bridges: Why I'm suing Georgia over immigration law
His words are more than just political talking points. The potentially crippling economic blow to the region is only one part of his rallying cry.
Bridges is waging a deeply personal battle.
Enforcement of the Georgia law could put him in prison and tear apart the families of some of his closest friends.
In his City Hall office, just a few feet away from a handbook for Georgia mayors and council members, he keeps a glass paperweight engraved with a Bible verse.
A family of illegal immigrants gave it to him for Christmas.
'I decided I was going to be the mayor for everybody'
Bridges is used to facing a tough crowd.
Critics called him an "outsider" two years ago when he decided to run for mayor of Uvalda, a one-stoplight town surrounded by onion fields and pine forests. Never mind that he grew up only 26 miles away. In Uvalda, population 600, everyone knows everyone.
His opponent's family had ties to the town that went back generations -- in fact, you might say Martin Moses was undefeatable in the category of name recognition: His kin founded Uvalda, and his grandfather once was its mayor.
But Bridges met the challenge by knocking on every door in town, asking residents to share their concerns and telling them he wanted the top job.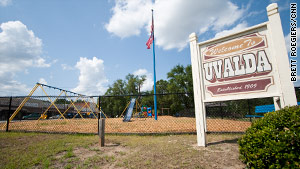 Uvalda, population 600, is a one-stoplight town surrounded by onion fields and the pine forests of South Georgia.
These days, he seems to know everyone who lives inside Uvalda's 1.9 square miles. His cell phone rings when their cable goes out, when their water bills go up or when they've locked their keys inside their cars.
It takes about two minutes to drive from one side of Uvalda to the other. A little more if you stop for watermelons and peaches at the farm stands set up on the corner by the town's single, blinking-red stoplight. Mostly, people pass through Uvalda on their way to somewhere else. But Bridges is planning to stay.
And given the chance, he believes he can sway the staunchest supporters of the state's immigration law -- just as he won Uvalda over, one person at a time.
The law, known as House Bill 87, gained steam quickly in the halls of Georgia's Capitol. Its backers argued that illegal immigrants were sucking away state resources, and that the U.S. government wasn't doing enough to enforce existing laws.
"This legislation is a responsible step forward in the absence of federal action. Illegal immigration places an incredible burden on Georgia taxpayers," Gov. Nathan Deal said after signing the bill last month.
Bridges says Deal is "fanning anti-immigrant sentiment without facts."
"The immigrant community is a big part of the economy of Georgia," he says. "These people earn money and pay taxes just like the rest of us."
On a white board in his office at City Hall, Bridges has the kind of lengthy to-do list one would expect of a small-town mayor. He's collecting back taxes and trying to convince people to open businesses in the city's dilapidated downtown.
But he sees his responsibility -- to serve the town's "citizens" -- a little differently than most mayors. For him, that term has nothing to do with passports or residency papers.
"When I became mayor, I decided I was going to be the mayor for everybody, including people who have no voice otherwise."
Immigrants are no longer strangers
Bridges knew immigrants were a growing labor force on South Georgia's farms, but he never heard or saw them.
That changed one afternoon in 1999 when he was looking for lasagna ingredients at a Soperton grocery store.
A brown-skinned couple caught his eye. From the way they leaned toward each other, he knew they were deeply in love. Words tumbled from their mouths -- a series of sounds without meaning for Bridges. He listened anyway, wishing he could understand.
He spotted them walking outside the store, plastic grocery bags in hand. "Do ya'll wanna lift?" he asked. They looked at him quizzically, so he tried again, "Do ya'll wanna ride?"
The couple and another man piled into his car, pointing the way to their destination a few miles away: two rundown trailers in the middle of a cotton field. Bridges dropped them off and went home to make dinner.
But he couldn't get what he'd seen out of his mind. Nearly 30 people lived in the two trailers.
A few hours later, Bridges went back to the cotton field, carrying lasagna and his daughter's Spanish-English dictionary. It was the beginning of a whirlwind journey into a new world that would change his life.
People he had never noticed embraced him. They taught him new words, served him soup and showed him the pictures of their children taped to the trailer's walls.
"It made me realize that I need to take another look at myself. ... It really brought out the 'me' in me," he says now.
He spent New Year's Eve that year with a family in Mexico. When he returned to Georgia, he started teaching English as a Second Language classes to immigrants. He introduced himself to his students as "Pablo Puentes," a literal, Spanish translation of his name.
Some people didn't understand his transformation. When Bridges first introduced an immigrant friend to his family, his brother-in-law turned around and walked away.
Bridges refused to close his social circle.
"I thought, 'Well, he just doesn't know him,' " he says.
Immigrants had been strangers in his eyes, too. Then many of those strangers became friends. And eventually, they became family.
Panic about new law as rumors spread

On a Friday afternoon at the height of onion season, workers stream into a South Georgia convenience store, eager to cash their paychecks from a week's work in the nearby fields.
The smell of fresh fruit and the sound of Spanish small talk fill the air.
Bridges greets customers from behind the counter, his words punctuated by the cash register's steady ring.
"Buenas tardes," he says. "Pasenle." Come in.
Occasionally tourists stop to snap a photo of this store in Santa Claus, Georgia, a tiny town near Uvalda founded in the 1940s by a farmer hoping to boost pecan sales. But store owner Chris Wiggins says the influx of immigrants has been a far greater boon for his business.
He operates the kind of gas station convenience store that only sold beer, potato chips and beef jerky a decade ago. Now limes, corn husks and dried chili peppers are part of the inventory. Calling cards behind the counter bear pictures of the Mexican flag.
"I arranged for him to get some tortillas," says Bridges, who volunteers at the store on Friday afternoons. It gives him a chance to practice different Spanish vocabulary, he says, and chat with friends.
"Gracias a usted," he tells a customer after ringing up his purchases. "Nada mas firma tu nombre abajo" -- just sign your name below -- he tells a man waiting to cash a check.
Some people make a point of stopping by when they hear he's working. They are old friends or former English students who know him as "Don Pablo."
Bridges banters with them in Spanish as they make their way to the front of the line. When one man places a 12-pack of beer on the counter, Bridges tells him that he wants half.
But as rumors spread about the immigration law, conversations at the store have taken on a more serious slant.
"They ask, 'Let us know what the law says,' " Wiggins says. "They don't really understand. ... We hear them panicking."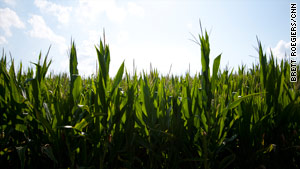 Georgia's agricultural economy will suffer as farmworkers go elsewhere, critics of the immigration law say.
A lack of information about the new measure breeds rumors of immigration raids. Illegal parents with U.S.-born children debate whether to leave Georgia. Some migrant workers who normally pass through Georgia have decided to stay out of the state, preferring to pick crops in Michigan or North Carolina.
Bridges takes a break from behind the register to check out the situation at the onion farm next door.
About 20 workers stand beside a conveyer belt on a warehouse assembly line, packing onions into bags for shipment. Staffing is short. Fewer migrant workers showed up this season as word of the law crossed state lines.
Bridges asks the men who run the operation what they think of the new law, and warns them that the consequences could be dire.
"If we don't stop it in Georgia, all the other states are going to follow suit," he says.
Warehouse manager Ruben Arizmendi suggests creating a work permit system for workers already living in the country.
"Would you consider writing a letter to the editor of The Vidalia Advance?" Bridges asks.
"If someone will type it up for me," Arizmendi says.
Bridges says he will.
'I think he ought to keep out of that business'
One e-mail called him an "evil American." One labeled him a communist.
Another -- with the subject line of "the real price of onions" -- criticized him for driving illegal immigrants to doctors' offices, saying U.S. citizens were being forced to pay the medical bills of onion workers.
As word spread about the lawsuit, messages from people Bridges has never met started appearing in his inbox at City Hall. But critics of the mayor's involvement in the suit can be found on the streets of Uvalda as well.
"I knew somebody was going to raise a fuss about it. I just didn't think it would be this local," says Leland Adams, who owns a hardware store a few blocks from Bridges' home on Main Street.
Immigrants are good customers, he says, but they need to follow the law.
"I think he ought to keep out of that business, leave the law alone. I think everybody ought to be here legally and show their ID when they need to show it."
Bridges doesn't shy away from defending his views. One man asked what he would do if someone broke into his home, raping and killing a family member.
"I would like to know if you would want this person prosecuted to the full extent of the law. If you answer this question yes, why would you not want other people breaking our laws prosecuted?" he wrote. "Mr. Bridges, you can and must apply the laws of the land equally."
Bridges fired back:
"Are you comfortable with a law that tells you who can or cannot visit you in your own home? One that tells you who can and cannot ride in your car? One that makes an otherwise law-abiding citizen a criminal?"
Bridges has been trying to choose his words carefully ever since a woman from the Southern Poverty Law Center asked him to join the class-action lawsuit against Georgia's immigration law.
He is a divorced father of three, and the warnings of his friends and family weigh on him. Many tried to convince him not to get involved in the case, fearing it would draw too much attention. He worries that expressing what he believes may harm those he loves.
And he knows his participation in the lawsuit could affect him politically if he chooses to run for mayor again in 2013.
But for Bridges, backing down is not an option.
Despite the immigration law, he will continue shuttling immigrants to soccer games and shopping malls. He will still let his friend's undocumented family members stay in his home during berry-picking season. And he will keep fighting the law, even though none of the people he's fighting for can vote for him on election day.
"I'm going to keep doing what I'm doing," he says, "because I can't run scared of something that is so basically and blatantly wrong."
Helping friends is worth the risk
Bridges climbs into the driver's seat of his friend's van and revs up the engine for a Friday night shopping trip.
A 5-year-old sitting in the back seat calls him "Grandpa." She is the daughter of one of his closest friends -- a Mexican immigrant he first met outside the trailers in the cotton field in 1999.
Like Bridges, the 5-year-old was born in the "Sweet Onion City" of Vidalia, Georgia. But her parents, brother and sister came to the United States illegally.
Bridges tries to drive them wherever they need to go. A broken taillight or a wrong turn could tear their family apart. If authorities stop them and find out they're in the United States illegally, they could be jailed or deported.
Under House Bill 87, Bridges could go to prison or face steep fines for driving them. But he says it's worth the risk.
They are his family, too.
Together, they stop at several stores, ending the night at Wal-Mart, where the family plans to find a gift for a wedding the next day.
Bridges runs into someone he knows in almost every aisle. And he mentions the immigration law every chance he gets.
One man he meets -- a citizen who just married an undocumented immigrant -- says he learned about the law a few days before when he picked up a Spanish-language newspaper at a local restaurant. Now he can't stop thinking about how a simple trip to buy groceries could ruin the life he and his wife are building together.
"I can't sleep. I don't know what I'm going to do. She gets deported, and I go to jail, for what? For going to Wal-Mart and getting some milk?"
Bridges tells him he should call his local lawmakers -- before it's too late.
The man shrugs and says, "What is a 22-year-old Hispanic man gonna do?"
He says he's been stopped more times than he can remember by a police officer in a nearby town who repeats the same refrain: "You have that dark-haired, dark-skinned complexion. I assume you don't have a license."
Bridges implores him to speak out.
"You might be that last drop," he says. "You might be the one that does it. I can't stress to you enough how important it is."
The man shrugs again. "What do I tell them?" he asks. "Help?"
Bridges shakes his head. He believes minds can be changed, just as his was.
"Just tell them, 'I want you to hear me out. I'm a real person. Listen to me.' "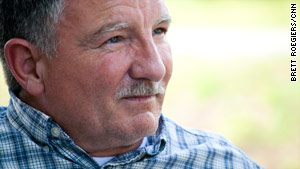 Uvalda Mayor Paul Bridges calls the tough immigration law "unconscionable" and "un-Christian."
Fight now in court's hands

Bridges sits on a wood bench in the front row of a courtroom in Atlanta, clutching a notebook. The atmosphere is tense, quiet. He is nauseous and alone.
Friends are waiting in a van in a nearby parking deck. The family has lived in Georgia for more than a decade, but now they are afraid to walk outside.
Bridges is fighting for them, and for countless other friends and former students. His decision to be "the mayor for everybody" led him here.
The family is willing to sit for hours in the heat so he can drive them to a shopping mall after the hearing. Uncertain how the law will affect them, they have canceled plans for the 14-year-old's coming-of-age quinceañera party in case they have to leave the country. They hope to get their deposit back on a dress.
"All rise. Court is now in session," the bailiff says.
Omar Jadwat, an attorney from the American Civil Liberties Union, mentions Bridges in his opening argument, describing him as "Mayor Bridges, who on occasion helps undocumented friends come from Florida to Georgia."
U.S. District Judge Thomas Thrash Jr. grills the attorney representing the state.
He asks what would happen if police pulled over an 18-year-old citizen for speeding while he was on the way to the grocery store with his illegal immigrant mother.
As the judge speaks, Bridges nods so intensely that his whole body rocks back and forth. He is encouraged by the questioning. The judge seems to see what he does: a law that makes criminals out of good citizens and tears families apart.
But he grimaces at the attorney's answer.
"It would be no different than if his mother had pockets full of cocaine, and he was knowingly transporting her to go sell it," says Devon Orland, senior assistant attorney general for the state.
The judge does not make a decision on this day -- but promises to rule before July 1, when the law is scheduled to take effect.
Outside, on the courthouse steps, Bridges is among a handful of plaintiffs who speak to reporters. After a morning spent on the sidelines, for a few minutes, he is leading the charge.
"This law has placed a target on the backs of these workers and their families," he says. "It's un-American, it's unconscionable and it's also un-Christian."
His voice rises. "It does not carry the values of my Republican Party."
A few onlookers clap. Reporters swarm around him, peppering him with questions. But they lose interest as another plaintiff starts talking.
Bridges walks away from the courthouse alone.
He is a small man swimming in a sea of unfamiliar skyscrapers. The vast, flat fields of South Georgia are hundreds of miles away. His face is flushed. His eyes wet. He wipes his hand across his forehead.
"It's just more emotional than I can explain," he says.
As he rounds the corner into a parking deck, the 5-year-old who calls him Grandpa bounds toward him and throws her arms around his legs. He kisses her on the head.
"It's over, my princess. I've done it," he says.
She looks up at him with a satisfied grin. But her older sister, who was born in Mexico and has spent most of her life in America, looks anxious.
This is the 14-year-old whose quinceañera party has been canceled. She is terrified that the law will force her family to return to a country she barely remembers.
"What happened?" she asks.
The judge didn't decide, Bridges explains, but he did ask a lot of questions.
"So you have confidence?"
Bridges doesn't answer.
The many faces of immigration in America
On Monday afternoon, Bridges couldn't stop grinning. The judge's ruling was a glimmer of hope that the judicial system he believes in can deliver justice.
But he has already begun preparing for the next round of battle. The state is appealing the ruling, and eventually, both sides will return to the courtroom to present their arguments in the case.
At a future hearing, Bridges hopes to have a chance to testify.
When he got the news Monday, he called the Mexican immigrant who has become one of his closest friends -- the man his brother-in-law once spurned but who is now a welcome guest at Bridges' family reunions.
The worst parts of the law have been stopped, for now, he told him.
Then, he called his priest, who said the judge's decision was an answer to his prayers.
A few minutes later, Bridges' cell phone rang. His friend's 14-year-old daughter wanted to know more about the ruling.
"What does this mean?" she asked.
To anyone who will listen, the mayor of Uvalda will say this: The girl with the anxious question is one of the many faces of immigration in America, someone whom supporters of laws such as HB 87 do not notice, but need to see.
She is a straight-A student whose parents are working hard to give her a better life.
She knows America as her country.
And like any teenager, she does not want to leave friends, teachers and a school she loves behind.
On Monday, she asked the mayor for the exact wording she should use to describe the judge's ruling.
She wanted to post the news on Facebook.
FOLLOW THIS TOPIC