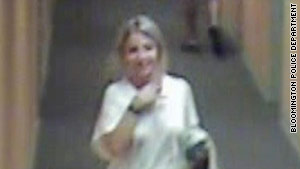 Lauren Spierer was captured on a surveillance video at her apartment complex right before her disappearance on June 3.
STORY HIGHLIGHTS
Lauren Spierer disappeared three weeks ago
She was going home after a night out with friends
Investigators have not been able to make any progress
Volunteers turned out Saturday to search for clues
(CNN) -- The volunteers were told to wear long pants and sturdy shoes, to bring a driver's license so they could prove they were not minors. They were asked to check in and then placed in groups of four or five, maybe more.
And they were given the details of the last sighting of Lauren Spierer. She is only 4 feet, 11 inches tall and weighs 95 pounds. She has blond hair and blue eyes and was wearing black leggings and a white top when she last went out with her friends more than three weeks ago.
The volunteers streamed in starting at 7:30 in the morning, determined to search for clues that might help police find her.
Spierer, a Indiana University student, disappeared some time after 3 a.m. June 2 after leaving Kilroy's Sports Bar in Bloomington. She never made it home that night.
For three long weeks, her parents have lived with uncertainty, police have called regular press conferences and volunteers have joined professionals in the effort to find her.
In mid-June, police had found possible new clues to Spierer's disappearance -- images of a white pickup truck caught on a security surveillance video. But they ruled out a connection and were back to square one. They had received thousands of tips but none so far have yielded anything concrete.
Amid little progress in the case, the police announced Friday they would no longer call news conferences, unless there was news.
The volunteers began to dwindle as well, prompting police, Spierer's family and community volunteers to come together Saturday for one last big push.
By Saturday afternoon, Find Lauren Day, as it was dubbed, had drawn about 400 or so people, said Kelly Holloway, who was helping coordinate search teams.
They were combing a 10-mile area and planned to be out all day long, Holloway said.
Police produced a photograph of Spierer taken at her apartment complex before she left home on the night of her disappearance. The petite fashionista wore black leggings with silver zippers at the ankles and a white shirt with elbow-length butterfly sleeves.
Surveillance camera footage from around 2:30 a.m. showed her and a male student, Corey Rossman, returning to her apartment building, Smallwood Plaza.
Spierer had left her shoes, along with her cell phone, at the bar earlier in the night.
An altercation with other people occurred there that led to Rossman getting punched in the face, his attorney told CNN affiliate WISH, and he claims he has no memory of what happened after that.
Police have said additional surveillance video from an alley showed them walking toward his building around 3 a.m. Her keys were later found in that alley.
A neighbor of Rossman reported seeing Spierer leave around 4:30 a.m., but police said they found no sign of her after the 3 a.m. sighting on any of the surveillance video they viewed from the blocks between the two buildings.
Spierer's mother, Charlene Spierer described her daughter as "a sweet, bubbly girl." She has repeatedly thanked the family's supporters and said she was trying to remain hopeful.
"As a parent, as a mom, you speculate and you wonder what happened," she said at the last regular police news conference Friday.
"Perhaps it was a terrible accident that happened and we can deal with that," she said. "What we can't deal with is what we don't know. So information is the most valuable thing we need right now."
Spierer's family is offering a $100,000 reward for information leading to her recovery. They have opened up a post office box for people to send in information.
As she has done at almost every news conference, Charlene Spierer pleaded again Friday for anyone with information to come forward.
"Please," she said, "we're begging you. Help us find Lauren."