STORY HIGHLIGHTS
NEW: Neighborhoods are inundated; vital bridge threatened
Souris River level surpasses record of 1,558 feet set in 1881; river is expected to rise
Water levels are greater than expected, Minot mayor says
Mayor and governor congratulate residents on smooth evacuation
Minot, North Dakota (CNN) -- Floodwaters gushed Friday into Minot, North Dakota, inundating thousands of residences and businesses, with water reaching mailboxes in some places, officials said.
The Souris River surpassed the all-time high of 1,558 feet set in 1881, according to the National Weather Service. The level was 1,560.13 on Friday evening.
"This is by far the toughest we've seen," said Battalion Chief John Hocking of the Minot Fire Department.
Between 3,000 and 4,000 homes were affected by the water, Hocking told CNN. "In some, up to the roofs."
Crews were trying to keep the vital north-south U.S. Highway 83 open as the waters stopped railroad service and sent residents and zoo animals to higher ground. Officials worried that more levees would be breached.
Are you affected by the flooding in Minot? Share your story.
A special focus was the so-called Broadway Bridge on U.S. 83, which spans the river. If it closes, Minot effectively would be split, making it tougher for emergency vehicles and repair crews to move about.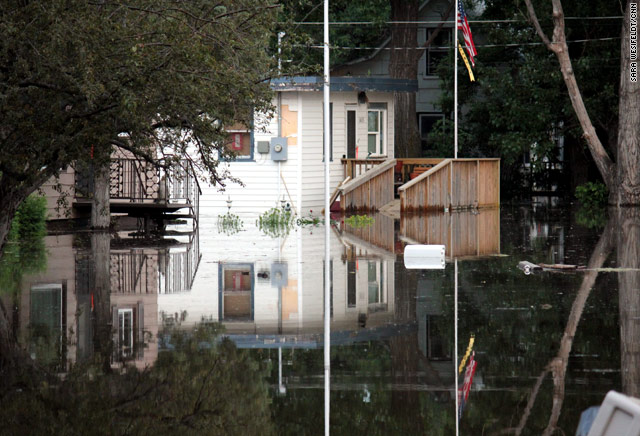 Gallery: Flooding in Minot, North Dakota

Is Minot ready for floods?

Resident calls flooding 'heartbreaking'

North Dakota preps for 'historic' flooding
"It's really important that bridge stays open," said Cecily Fong, spokeswoman for the North Dakota Department of Emergency Services.
Workers reinforced levees and built huge dikes to stem the flow of the river, Hocking said Friday night. Air boats were brought in earlier.
"This has been a very trying time for our community," Mayor Curt Zimbelman said. "Emotionally draining for all of us."
The river is forecast to surge more than 6 feet higher than the old record as water rushes into the area, officials said.
The rush of water prompted overflowing of a lake near the city, officials said, exacerbating the region's flood concerns.
The river won't crest until late Saturday or early Sunday.
About 800 National Guard troops were in the city late Friday to assist, Fong said.
Zimbelman has said that no new evacuations have been ordered, even though "the flows coming into Lake Darling are reaching the lake quicker and at a greater volume than predicted."
"Due to this, Lake Darling has increased its outflow," the mayor said -- increasing flooding in the floodplain, though not to a point that it yet changes the "inundation zone."
About 12,000 residents have evacuated their homes, according to Minot Fire Department Capt. Dean Lenertz.
Hocking said he took an aerial tour of areas around Minot and said saw widespread flooding. "All along you could see are rooftops and flooded areas."
Water has been overtopping the city's dikes since Wednesday, which are leaking in some places.
Gov. Jack Dalrymple said that "all agencies are engaged" statewide in addressing the issue. He said, for example, that workers with North Dakota's transportation department are moving 100,000 sandbags from Bismarck to the Minot area, and there are about 500 National Guard personnel onsite.
The Souris River, which locals call "The Mouse" after the French translation of its name, flows through the center of town, and there are several homes and businesses along its low-lying banks.
Fearing the main levees would not hold back the water, emergency workers have been constructing local levees around a school and the Broadway Street Bridge, a main thoroughfare.
Minot, in the north central part of the state, is the fourth-largest city in North Dakota. The evacuation order covers a third of its population, state Emergency Services spokeswoman Cecily Fong said.
The Souris River looks like a "U." It swoops in and out of North Dakota from Canada.
CNN's Phil Gast, Ed Payne, Marlena Baldacci, Jim Spellman and Alta Spells contributed to this report.
FOLLOW THIS TOPIC