Bodies of WWII airmen brought home more than 60 years after crash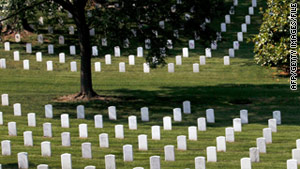 The recovered bodies of five World War II airmen will be buried at Arlington National Cemetery or in their hometowns.
STORY HIGHLIGHTS
Remains of 5 U.S. Army Air Forces crew members have been identified, the military said
Their plane went down in the Philippines
(CNN) -- The bodies of five U.S. airmen who went missing when their plane crashed in the Philippines during World War II have been recovered and identified, the Defense Department announced Wednesday.
Burials with full military honors were to be in their hometowns or at Arlington National Cemetery in Virginia, according to the statement.
On April 3, 1945, Capt. Leonard E. Orcutt, Alameda, California, and his Army Air Forces crew took off in their B-25J Mitchell bomber from Palawan Field in the Philippines.
Another pilot reported seeing Orcutt's plane stall and crash in a swampy area roughly a mile northeast of a village. There were no survivors, the statement said.
Orcutt, Tech Sgt. Louis H. Miller, Philadelphia; and Staff Sgt. George L. Winkler, Huntington, West Virginia; were buried in May and June.
Second Lt. Harry L. Bedard, Minneapolis, is set to be buried on June 25 in Dayton, Minnesota. Second Lt. Robert S. Emerson, Norway, Maine, will be buried July 9 in his hometown.
Their remains were initially recovered beginning in 1947, but only through recent forensic testing were Army officials able to identify them and return their remains to families.
More than 73,000 Americans are unaccounted-for from the war, the military said.
FOLLOW THIS TOPIC