Rig owner blames BP for Gulf oil disaster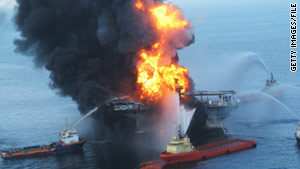 The Deepwater Horizon explosion killed 11 crew members and caused a massive oil spill.
STORY HIGHLIGHTS
Transocean says BP took risks and didn't tell crew about them
BP and Transocean have pointed fingers at each other over spill
A BP investigation found that there was no single cause
(CNN) -- An internal investigation by Transocean, the owner of the rig that suffered a deadly explosion in the Gulf of Mexico last year, concluded that missteps by BP caused the enormous spill.
The report, released Wednesday, concluded that BP assumed risks on the rig because of a narrow window for safe drilling and that the oil giant didn't inform crews of the risks.
BP and Transocean have pointed fingers at each other over the incident, which killed 11 workers and wreaked havoc on the Gulf of Mexico for months.
The explosion was the result of "a succession of interrelated well design, construction, and temporary abandonment decisions" that "compounded the likelihood of its failure," Transocean said in a statement.
The bad decisions were driven by BP's knowledge that conditions at the well created a small window for drilling, the report states. The company was afraid that downhole pressure would exceed the fracture gradient, costing money and jeopardizing the future production of oil, Transocean said.
BP did not immediately comment on the Transocean report.
In its own internal investigation, BP concluded that there was no single cause for the accident.
The BP investigation found that "a complex, interlinked series of mechanical failures, human judgment, engineering design, operational implementation and team interface failures, involving several companies including BP, contributed to the accident."
FOLLOW THIS TOPIC