San Francisco's anti-circumcision initiative faces court challenge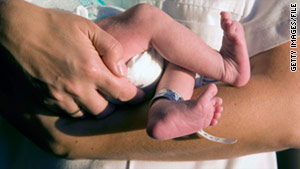 A proposal illegalizing circumcision on boys under 18 is set to appear on the November ballot in California.
STORY HIGHLIGHTS
The Anti-Defamation League joins others in lawsuit over San Francisco proposal
Proposal criminalizing circumcision on males under 18 up for vote in November
Opponents say the proposal is unenforceable and unconstitutional
Circumcision is an important practice for both Muslims and Jews
(CNN) -- The Anti-Defamation League and a number of individuals have filed a lawsuit challenging a San Francisco ballot initiative that would criminalize the circumcision of males under age 18.
The lawsuit asks the Department of Elections to remove the proposal from the ballot for the November election on the grounds that San Francisco would not be able to enforce the ordinance even if it was approved. The petition asks that a judge intervene so the city and its residents will be spared from "wasting resources debating and voting on an ordinance that cannot become law."
"Existing California law is clear," said Nancy Appel, Anti-Defamation League associate director in San Francisco, in a statement. "Only the state can make rules about medical procedures and this initiative violates that law. Not only does this initiative waste time, energy and expense, but it also offends the notions of parental rights and freedom of religion. It is unconstitutional and, as we allege in this lawsuit, contrary to California law."
The San Francisco-based advocacy group known as Male Genital Mutilation Bill collected enough signatures on a petition to guarantee the anti-circumcision proposal will appear on the ballot for the November 11 election.
It would make circumcision a misdemeanor if performed on boys under age 18. It could be punishable by a fine of $1.000 and up to a year in jail.
Opponents of circumcision argue the procedure can cause damage that ranges from nerve destruction and loss of normal tissue to infection, disfigurement and sometimes death. Matthew Hess, founder and leader of Male Genital Mutilation Bill, has said, "Freedom of religion stops at another person's body."
But opponents of the bill say it violates the First Amendment's protection of the exercise of religion and that putting the matter to a popular vote goes against the Constitution's protections of the rights of individuals and minorities.
The Anti-Defamation League is joined in the lawsuit by the Jewish Community Relations Council of San Francisco and Jewish and Muslim individuals who feel their rights would be adversely affected if the bill were to go into effect.
Circumcision is an important element of religious practice for Muslims and Jews, a significant ritual that affirms membership in the group.
U.S. law has long allowed people to follow their religion in refusing medical care for themselves and their children in all but the most extreme situations, when the life of a child is directly endangered.
CNN's Kim Hutcherson contributed to this report
FOLLOW THIS TOPIC