Remains of missing Vietnam War serviceman identified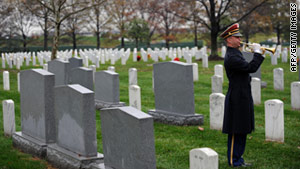 Air Force 1st Lt. David A Thorpe will be buried with full honors at Arlington National Cemetery.
STORY HIGHLIGHTS
DNA samples helped identify the remains of Air Force 1st Lt. David A. Thorpe
Thorpe will be buried in Arlington National Cemetery with full military honors
Thorpe's plane crashed in South Vietnam in 1966
Remains recovered at a crash site were later identified as Thorpe's
Washington (CNN) -- It has been more than 40 years since Air Force 1st Lt. David A Thorpe was declared missing in action from the Vietnam War. Now his family will finally receive some closure.
Thorpe's remains have been identified by forensic anthropologists and are being returned to his family, officials with the Department of Defense said Friday.
He will be buried in Arlington National Cemetery on June 23 with full military honors.
On October 3, 1966, Thorpe and four other airmen failed to arrive at Nha Trang Air Base after their departure from the Tan Son Nhut Air Base in South Vietnam. Eight days later, their remains were recovered by rescue personnel at a crash site some 40 miles west of Nha Trang.
The cause of the crash is not known.
For years, the Joint POW/MIA Accounting Command, or JPAC, lacked the advanced procedures needed to compare and test DNA for individual identification. Most of the remains recovered at the crash site were buried as part of a group in Arlington, while other remains associated with the group were saved for future testing.
Forensic anthropologists with JPAC used dental records and a sample of Thorpe's DNA to discover a match with his sister, the Department of Defense said.
Since 1973, the remains of more than 700 Americans killed in the Vietnam War have been returned and identified, according to the Defense Prisoner of War/ Missing Personnel Office.
More than 1,600 service members remain missing from the Vietnam War.
FOLLOW THIS TOPIC