Mount Rainier climber missing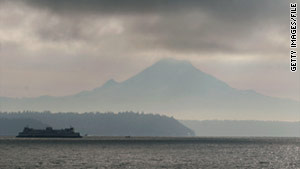 The hikers stopped Sunday night on Mount Rainier's Liberty Ridge at 13,600 feet for camp. One was unable to continue.
STORY HIGHLIGHTS
Rangers have been searching for an experienced climber since Monday, report says
Dangerous weather has delayed them, report says
Report says the climber was unwell at camp while his friends left for help
(CNN) -- Rangers continued their search for a seriously ill Washington man on Mount Rainier Tuesday. His companions had left him Monday night to seek help, a report from the Mount Rainier National Park said.
Rob Planker, of Olympia, Washington, an experienced climber, began the ascent of Mount Rainier with two other climbers Friday. They stopped Sunday night on Liberty Ridge at 13,600 feet for camp, planning to continue their climb the next day.
Planker's party woke up Monday morning to find that he couldn't move around and showed signs of frostbite and hypothermia, the report said.
The other two made the decision to leave Planker, 50, and look for help Monday evening. Two teams of rangers began a search, but high winds forced one team to turn back and the other to seek shelter in a snow cave, the report said.
The search resumed Tuesday morning, but there was still no sign of Planker in the Liberty Ridge area. An aerial search Tuesday afternoon showed a slide path full of ice and snow in some of the steepest and most inhospitable terrain on the mountain, the report said.
Rangers continued to search for Planker Tuesday afternoon and planned to pick the search up Wednesday.
FOLLOW THIS TOPIC