Report: No evidence of an organized slowdown in 2010 blizzard cleanup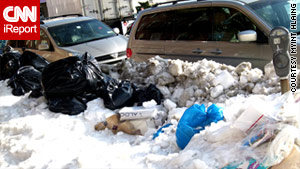 Snow and trash piled up for days after the Christmas weekend snowstorm in New York.
STORY HIGHLIGHTS
The speed and efficiency of the cleanup were criticized
Rumors swirled that supervisors had ordered a slowdown because of budget cuts
The report finds only isolated instances of slacking
Three sanitation workers were caught on video, buying beer
New York (CNN) -- A five-month probe by New York City's anti-corruption agency found no evidence of an organized work slowdown by the city's sanitation workers during the December 2010 blizzard, according to a report released Friday.
The report by the New York City Department of Investigation was a compilation of 150 witness interviews that included employees of the city's Sanitation and Transportation Departments, local officials and members of the public, as well as a review of video footage obtained by the public and law-enforcement sources.
The Sanitation Department drew sharp criticism last year after rumors swirled that supervisors had ordered rank-and-file workers to slow cleanup efforts in retaliation for the city's belt-tightening measures.
The probe did uncover several incidents in which sanitation workers weren't doing their job, including ones who were caught on surveillance video. Video shows three sanitation workers purchasing beer while on duty.
Another incident in the report, which was investigated because off a YouTube video called "Mike Bloomberg Fail - NYC Blizzard Workers at Dunkin Donuts for Eleven Hour Break," shows three sanitation trucks idling outside of a Brooklyn Dunkin' Donuts. Two trucks were working in tandem and became stuck. The third truck was forced to stop and could not regain momentum to continue plowing. The trucks were left idling in front of the doughnut shop and eventually ran out of gas.
"As the mayor said this winter, the response to this storm did not meet our standards, or the standards that New Yorkers have come to expect from us," Keith Mellis, spokesman for the Sanitation Department, said in a statement. "The Department of Sanitation is actively working to implement the recommendations ... and will improve many of their procedures to ensure that snow removal operations function well in the future, as they have in many other storms."
After the cleanup, New York City Councilman Dan Halloran said three sanitation workers and two Department of Transportation supervisors went to his office, saying their supervisors had ordered the slowdown, telling workers, "the mayor will see how much he needs us" and "there will be plenty of overtime." The claims created an uproar, but the report did not find any evidence of such claims.
The report found that roads around the hospitals were cleared in a timely manner to varying degrees, but hospitals with more sizeable campuses experienced greater problems. While several hospitals reported satisfactory snow removal in the streets around their perimeter, several reported that vital roads and access points were not expeditiously cleared. The report recommended that the city improve planning for snow cleanup at key access points to hospitals.
The findings in the 47-page report have been referred to three prosecuting agencies, the district attorneys for Kings County and Queens County, as well as the U.S. Attorney's Office for the Eastern District of New York, to determine whether further action is needed.
FOLLOW THIS TOPIC