STORY HIGHLIGHTS
Residents of Joplin, Missouri, had 24 minutes between the tornado warning and touchdown
In that time, people took shelter in bathtubs and closets, under stairs and inside shops
Here are the stories of some of those who survived the deadliest U.S. tornado on record
Joplin, Missouri (CNN) -- Every Monday, people who live in Joplin, Missouri, begin their week with the sound of tornado sirens.
They take showers listening to the sirens. They pour coffee and wake their kids to the head-rattling blare. They jog around their neighborhoods, absent-mindedly pleased that their headphones help drown out the annoying screech of those damn sirens.
Every day in cities and towns across the Midwest, the routine test of an emergency system intended to save lives often gets ignored.
But after Sunday, no one in this college town of 50,000 is likely to dismiss a siren's call again.
In the middle of a clear, sunny afternoon, the deadliest recorded tornado in U.S. history spun up over Joplin. Within a matter of minutes, it leveled entire blocks, smashing miles of homes to splinters.
Are you in Joplin? Share your photos and video from the scene, but please stay safe.
Evergreens and sycamores that stood for generations were decapitated. Gnarled metal car frames were wedged on roofs. Dust and insulation particles hung in the heavy, humid air.
The white noise of electricity was replaced by an eerie quiet -- amplifying the sound of feet crunching concrete as people emerged, zombified, wandering along streets that ran together and into the horizon, no longer distinguishable from one another.
As rescue workers continue to find bodies -- 125 at latest count -- time has become something else in Joplin. It's now a long wait, for insurance checks or calls about whether jobs still exist. Or word that a missing mom or uncle or high school buddy has been found.
Conventional time, counted in minutes, stopped at 5:17 p.m., when the National Weather Service issued a tornado warning for Joplin, triggering the city's sirens.
They had 24 minutes before touchdown, before the tornado would be on top of them.
'Awesomeness'
Erin Mason had been in her kitchen gossiping with a few friends, laughing, seasoning green beans. It was a gorgeous day, perfect for a barbecue. The radio was tuned to a pop station. Mason's 2-year-old daughter Isabella giggled in a highchair. Shawn Stephens, Mason's boyfriend and Isabella's father, flipped burgers in the garage. He'd pulled the grill inside because it had started to sprinkle. A storm was probably coming, but so what?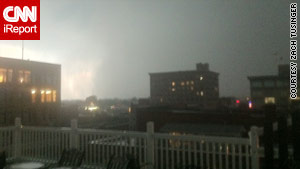 Zach Tusinger took this photo from the roof of his downtown loft as the tornado approached Joplin.
"We have storms here all the time," she thought. "We'll listen to the news a little here and there. You know, check in."
Down Mason's street, past several yellow and blue clapboard houses, Jared Hatfield welcomed people to his open house. He'd put the one-bedroom he shared with his girlfriend, Alexandra, and their 2-year-old daughter Sophie up for sale a week before in the hopes of moving to Kansas City, where Alexandra had been accepted in a doctoral program.
The 30-year-old roofer had no delusions about the market, but he felt optimistic. He pushed a For Sale sign deeper into the ground. The lawn was freshly cut and the house was spotless.
Just to the north along Joplin's Main Street, Zach Tusinger could see the entire city from the rooftop of his downtown loft. He was up there checking out the view at five minutes until 5. The 26-year-old attorney had been on his iPhone most of the day searching for weather updates and texting with his dad, another weather geek. He had his camera ready.
"Awesomeness" he posted on Facebook, along with a photo of a big black blob and a bright, freaky light menacing the skyline. The approaching storm was already knocking out power in other parts of town.
Back at Mason's house, the food out, the burgers almost done, Erin Mason took care of another routine chore that comes with Midwestern storms. She went to a closet, pulled out blankets and lined her bathtub.
"I always watched my mom do this when I was growing up and this is what you just did," she said. "I wasn't really thinking anything except I'm a mom and now I do this."
She had laid the last blanket when the sky turned black. In only seconds, the sprinkle that had sent her boyfriend into the garage to grill burgers became a vicious, heavy pour. Hail bounced off the ground.
5:17 p.m. The tornado warning went out. Soon after, the first siren sounded.
'Something's coming'
About a mile from Mason's house, Janece Crosthwait was on her couch, watching some lazy Sunday show on cable. It was such nonsense she can't even remember now what show it was.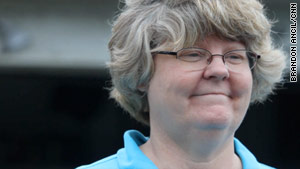 Janece Crosthwait took shelter under a stairwell: "I knew my house was getting torn to pieces."
"I thought, 'I better get on my shoes.'" She slipped on her sneakers and kept watching her TV show. Her husband, Joe Crosthwait, who'd been in the driveway, rushed into the house.
"Get under the stairwell," he ordered his wife, their grown daughter and son-in-law. "Something's coming."
While the sirens blared, Tusinger left his downtown rooftop perch and was running down the stairs of his building. Halfway down, he looked at his watch. It was about half past 5. He was on the north side of town, where most of Joplin's businesses are. Though he didn't know it then, the tornado would, some 10 minutes later, be chewing through Joplin's heavily residential south side.
He stood for a moment on the ground floor, heard the wind roar and thought, "This is stupid, this isn't going to protect me." He headed for the nearest, strongest brick building, a pre-war structure that now houses a popular coffee shop. He walked in and was cheered by high schoolers celebrating their recent graduation.
"Garbage cans were flying in the air down the street but nobody stopped partying," he said. "It was weird."
A few streets away, a newly married couple, Joe and Michelle Dixon, were speeding away from Joplin. Just an hour earlier, they had decided they'd try to go to a late service at their church in Carthage, Missouri, 25 minutes away. It was sunny then, but clouds were on the horizon. They thought they'd hit the road before the rain got bad. But now it was pouring, and dark clouds rolled across the sky. As he drove, Joe Dixon looked up.
"I just hated the way things were looking so I knew we had to hurry up," Joe Dixon said. The car radio was off. They had no idea a tornado was about to obliterate their neighborhood.
'We were flying'
A second siren went off.
"Get in the bathtub now!" someone shouted to Erin Mason. She, her boyfriend and their three friends ran inside the bathroom and jumped into the tub. Everyone extended their arms toward Isabella, the toddler, squeezed in the middle.
"I was waiting for something to stab us or for a car to fall on us," she said.
Five seconds ticked by. "We were flying," Mason said. The walls gave way, and their bathroom disintegrated around them. The tub lifted and spun like a Disney teacup ride.
"Hope left me," she said. "I thought I would never see my baby again."
Jared Hatfield survived the storm with his girlfriend and their daughter: "It could have been worse."
The baby. Jared Hatfield and his girlfriend, Alexandra, went to Sophie when the second siren sounded. It was hard to hear the warning above the hell-screech of their roof peeling off. Rain, trees, leaves pelted them. Alexandra grabbed Sophie and dived into the closet in the girl's bedroom, their only windowless room. The storm's octaves had dipped low and guttural. Jared jumped in the closet. The tornado grabbed an old oak tree a few feet from where they crouched and yanked it free like a weed. It fell away from the house.
At the Crosthwait's house, Janece Crosthwait had obeyed her husband's command to take cover. The couple and their children, along with several dogs, huddled under a stairwell. The roof zippered off. Windows shattered. The fence around the pool flew away.
"We were being pelted with tree leaves, rain, pop, pop, popping everywhere," she said. "I knew my house was getting torn to pieces."
It was like a car crash, she said.
And that might come close to what it felt like when Erin Mason crashed into the ground, the weight of a bathtub and four adults on top of her. In the moments after a car crash, survivors say they don't feel their own pain. Their mind goes to the person they know was next to them. Are they still alive?
Mason pushed half of the cracked tub off her. Everyone was bruised and cut, but all right. Isabella was covered in blood.
Mason's boyfriend, Shawn, stood and hoisted his baby girl.
He put his face to hers, his eyes to her eyes.
"Dah-dah?" he said.
"Dah-dah," Isabella answered.
He grabbed a blanket and threw it over her head and started running down what little was left of their street. Maybe the clinic at the corner would be open.
Memory fails Erin Mason at this point. She was probably crying, her head in her hands. Her arm was bleeding. She stood on a mound of broken concrete and torn metal. She looked east, west, north, south. Everything was sky. The rain kept on. It felt like she was watching a movie on mute.
She saw a man, a woman and their young son straggling up the street, bloodied.
"I felt so bad for them," she recalled. "They looked bad."
Fueled by adrenaline
Zach Tusinger, his downtown loft unscathed, didn't wait to be sure the tornado had passed. The sky looked like hell, he thought, so who knows, maybe another twister was right behind the first. He had just taken up running again, so he sprinted out of his coffee shop shelter and headed toward his grandparents' house two miles away.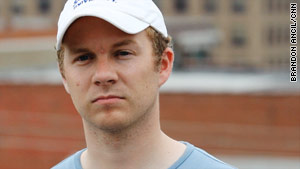 Zach Tusinger ran two miles to check on his grandparents, who were fine. His aunt and uncle didn't make it.
He jogged past the foundation where the Dixons' house used to be.
It was pouring. Tusinger sloshed through the street, dodging so many broken things that used to mean something to someone. He wiped the rain from his face.
"It was adrenaline," he said, that kept him going.
He arrived at his grandparents' house, an old gray clapboard. His 91-year-old step-grandfather, Rick Graham, a World War II vet, answered Tusingers' shouts. The front door was jammed; Graham had been trying to pry his way out of the house. He wanted to see the damage, and he didn't like being in the old house alone. Tusinger's grandmother had gone out of town for the weekend.
"When I saw that he was OK, I didn't want to leave him, but I felt like I had to," said Tusinger. Gripping his iPhone, he began jogging and texting everyone he could think of to see if they were all right. Homes were gone but his friends were alive. Then came bad news. His aunt and uncle, south-siders for as long as he can remember, were dead.
"I remembered something my aunt said to me a week before," he said. "She'd been getting into better shape and wanted to do a local run. She was just kind of getting out there a little. She said, 'I'm even becoming less afraid of these storms.'"
At what was left of the Crosthwaits' home, everyone decided it was safe to move away from a small wall under the stairwell. They turned around and saw the outline of their bodies caked in mud on the wall.
Night passed into day. For the people in Joplin, sleep was all but impossible.
By the morning, the Dixons -- who had reached Carthage and spent the night at Joe's father's house -- got in their car and drove home.
When they reached the edge of their neighborhood, Michelle Dixon put her hand over her mouth. She and Joe screamed. The only part of their house still left was a concrete slab, the porch where Joe, the day before, stood and watched as storm clouds approached.
"I just was not prepared to see this," she said.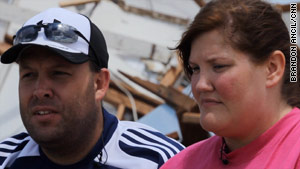 Joe and Michelle Dixon were driving out of town when the tornado struck; their home was demolished.
Michelle started digging first. Wedding dress, wedding dress, wedding dress. Her head throbbed. One of their wedding invitations poked up from a pile of dust. Hope welled up for a minute. She spotted a wrapped wedding gift buried under a pile of wood and insulation. They unwrapped it and pulled out a glass vase, completely intact.
The wedding dress, though, was gone.

Pets displaced after tornado

Deaf man survives tornado
Erin Mason and Shawn Stephens didn't want to return home. They were too overwhelmed. But even in their early 20s, they told themselves they were parents now, adults, and it was time to get tough and survive. They needed to find things. Rumors were already circulating around town that looters were out. The couple couldn't handle losing the $800 in cash they'd been stashing away in a dresser drawer. Isabella's baby pictures might be in the rubble. Stephens wanted to find the urn that held his father's ashes.
They found the cash and the baby pictures, but not the urn.
Around town, chainsaws fired up. Police were on the street. Nurses in white jackets walked the streets with medical kits, sometimes for miles. Lines of residents, waiting for permits to enter ravaged neighborhoods, grew longer. Spraypainted Xs marked houses that had been searched for survivors.
People from across the country spent their own money, took time off from their jobs, to drive to Joplin. Some came for work, others offered free water, food and encouragement.
"Better days are coming, Joplin," read the message scrawled on one out-of-state truck.
Jared Hatfield spent the days after the tornado cutting the uprooted oak in his yard into smaller pieces and talking with an insurance agent about how to deal with an unrecoverable home. His girlfriend and daughter are fine. "It could have been worse," he said, shrugging.
The houses on his block are all marked with an X. Whole walls are missing. They look like theater sets. From the street, the homes' interiors, every detail, were exposed. In one house, books still fill a bookcase. A flap of sheet metal drapes over an armchair like a blanket.
The hands of a clock on a wall had stopped at 5 p.m.
FOLLOW THIS TOPIC