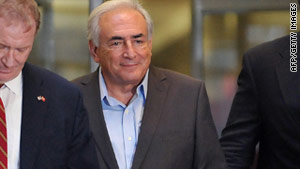 Dominique Strauss-Kahn has been indicted on seven charges stemming from an alleged assault on a hotel maid.
STORY HIGHLIGHTS
Ex-IMF chief moves to 3-story home with own gym, home theater
Judge approves switch on Wednesday
Strauss-Kahn can leave the building only for court appearances.
If he wants to leave, he must provide 6 hours' notice to prosecution
New York (CNN) -- Ex-International Monetary Fund chief Dominique Strauss-Kahn has a new place to stay under house arrest -- a luxury townhouse in New York's tony Tribeca, according to a source with knowledge of his whereabouts.
The judge presiding over his sexual assault case accepted a new location Wednesday for Strauss-Kahn, who moved the same day from his temporary apartment in Lower Manhattan, according to court officials.
He is under court-ordered watch, part of the terms of his $6 million bail agreement. Strauss-Kahn must pay for the 24-hour armed guard posted at his door and other electronic surveillance.
The swank townhouse was once listed at just under $14 million for purchase earlier this year, according to a real estate website.
A townhome listing says it's 6,804 square feet, and was recently renovated by architect/designer Leopoldo Rosati. Built originally in 1915, the three-story pad is said to have a state-of-the-art in-home theater, gym, spa steam bath and bar.
"My phone's been ringing nonstop," said Robert Dvorin, senior vice president for listing agent Town Residential, a New York residential real estate brokerage.
He refused comment on the terms of the deal, but pointed CNN to websites that show at one point the asking rental price for the property was $60,000 per month. He wouldn't say what Strauss-Kahn is actually paying.
Strauss-Kahn can leave the building only for court appearances. If he wants to leave for any other reason, including religious services, he must provide six hours notice to prosecutors.

Dominique Strauss-Kahn timeline

France's Lagarde bids to lead IMF

Filling the IMF's top job

Choosing the IMF chief
He has been indicted on seven charges stemming from an alleged assault on a hotel maid. He faces two counts of criminal sexual act; two counts of sexual abuse; and one count each of attempt to commit rape, unlawful imprisonment and forcible touching. If he is convicted, Strauss-Kahn faces up to 25 years in prison.
In his written resignation to the International Monetary Fund last week, Strauss-Kahn said, "I deny with the greatest possible firmness all of the allegations that have been made against me."
Wednesday's announcement also comes one day after Strauss-Kahn's wife, Anne Sinclair, said she is closing down her popular French blog.
Sinclair, who has been writing about life in the United States on her blog, "Two or Three Things Seen in America" since 2008, wrote Monday: "You understand the circumstances which force me to temporarily suspend this blog."
She closed by saying, "See you soon."
Meanwhile, candidates are emerging for the IMF chief's job.
On Wednesday, French Finance Minister Christine Lagarde announced her bid, and would be the first woman to run the fund since the global financial institution was founded in 1945.
Germany strongly backs her candidacy, government spokesman Steffen Seibert said Wednesday -- throwing the weight of Europe's largest economy behind Lagarde.
Elsewhere, Mexico is looking to buck the trend of a European-only policy for the top job, and is expected to put forward Central Bank chief Agustin Carstens as a candidate, Mexico's state-run news agency reported Sunday.
CNN's Ross Levitt and Eden Pontz contributed to this report.
FOLLOW THIS TOPIC