STORY HIGHLIGHTS
People can use trusts to buy machine guns and avoid background checks
Last year, authorities processed 17,000 such applications
Buyers want U.S. government, not local officials, to decide who can buy machine guns
Prestonburg, Kentucky (CNN) -- For Benjamin Ferguson, the Dewey Lake Fish and Gun Club brings back memories. As a child, Ferguson came to the modest gun range in rural Floyd County, Kentucky, to learn gun safety so he could go deer hunting with his family.
Now, the Army veteran and drug counselor has children of his own, six in total. He passes along knowledge about gun operation and safety and encourages his children to explore the guns -- safely, of course.
"It's curiosity that hurts," he said.
But the guns he's teaching his kids about -- the guns he and his friend, attorney and gun dealer Jason Reichenbach, have brought to the club today -- are bigger and more costly than the deer rifles he used as a kid.
"They're big-boy toys," Reichenbach said. "We used to shoot BB guns as kids, but then we went to college and got professional degrees and make professional wages, but we still want toys."
He spreads out his collection -- a Mark II Sten machine gun, a .45-caliber fully automatic machine gun and a suppressed .22-caliber rifle -- across a wooden picnic table, along with boxes of ammunition and paper targets.
For both men, safety is paramount. They think public schools should offer gun safety courses and federal authorities should perform background checks on people purchasing weapons like the ones they brought to the range.
Such Title II or National Firearms Act weapons include guns like short-barrelled rifles and destructive devices like grenades, and they are therefore regulated differently.
Ferguson says he keeps a collection in part for personal safety. This year alone, he says, several people have tried to break into his home. But he blanches at his friend's suggestion, made in jest, that he would actually fire at the intruders. His pump shotgun functions as a visual deterrent, he says.
In the past, Ferguson says, he had no problems purchasing guns. But a few months ago, he decided he wanted a silencer. Under federal regulations, silencers fall into the same category of Title II weapons as rockets and machine guns.
Tough scrutiny comes along with this classification. Unlike with other guns, for each Title II purchase, a person must submit photos and fingerprints to the federal authorities for a background check.
Even if those checks come back clear, a local official like a sheriff or a district attorney gets to weigh in on the purchase. In some jurisdictions, this local official will simply deny the purchase. This happened to him, Ferguson says with a sigh.
Still, through a federal loophole, he got the silencer.
He bought it through his corporation and now holds it in a legal device called a National Firearms Act Trust, drawn up by a Florida estate planning attorney, David Goldman.
Federal authorities say the increasingly popular loophole allows people to get these weapons without the normal precautions. Last year, they received 17,000 such applications for purchases.
Enthusiasts attribute the popularity of the loophole to the part of federal law that allows local authorities to veto the purchase.
In the world of gun trusts, Goldman is a big name. He maintains a website with information about the relevant federal regulations and has created a network of attorneys across the country who practice this kind of law.
Goldman says his interest began with a phone call from a gun store a few years ago.
"They basically said their clients were using trusts to purchase NFA firearms," Goldman said. "They wanted to know if they were going to get into trouble or if their clients would get into any trouble."
He quickly realized that the regulations allowed for this type of transaction because they treat people different from trusts or corporations. A person must get background checks and submit to local scrutiny, but that's not the case for trusts and corporations. So Goldman took an estate planning trust as a model and modified it to ensure that the clients could do what they want with the weapons and stay in line with the myriad regulations.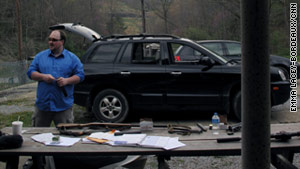 Benjamin Ferguson bought a silencer through a federal weapons loophole.
For many reasons, Goldman says, the trusts are a better deal. They cost less than corporations, and they provide a vehicle to pass these weapons on to others.
Ferguson and Reichenbach say they like this element of the trusts. They want their children to inherit their expensive weapons without any hassle, and the trusts provide for that.
Teresa Ficaretta with the federal Bureau of Alcohol, Tobacco, Firearms and Explosives calls this financial planning feature a "positive" use of trusts but says her agency is closely tracking the use of these devices.
"The lack of background check, that is of concern," Ficaretta said, adding that her group has seen a meteoric rise in interest and applications.
These factors prompted a review of the regulations; Ficaretta says the bureau hopes to to update them "to bring them more in line with what's happening in the real world."
Also hoping for a change is the National Firearms Act Trade and Collectors Association. In its filing with the firearms agency asking for a rule change, it cites the rise in interest and the lack of background checks as problematic.
The association's members want increased federal scrutiny, but they also want to completely do away with local control. They say the chief local law enforcement officers apply their authority in an arbitrary manner. Further, they claim, the popularity of gun trusts is directly related to the unwillingness of some local law enforcement officers to approve these purchases.
But one former chief local law enforcement officer says he's only using the authority granted by the law.
J. Tom Morgan served as district attorney in DeKalb County, Georgia, for 12 years. For Morgan, the incredible firepower of some of the weapons in this class means a person must have a good reason for wanting one in his urban county.
"Just because someone liked the idea of having one, that didn't make sense to me," Morgan said. He denied all but one such purchase.
Besides, Morgan says, the law enforcement community expressed uneasiness over possibly confronting people who are armed with such weapons.
Either way, a decision on a change to the act is still a long way off. In a superheated political climate for any type of gun regulation, this battle has largely played out behind the scenes.
But the issues involved are familiar. Enthusiasts argue that they have an individual right, given to them by the constitution, to have weapons for personal safety or just for fun. But local law enforcement officials worry about the impact on their communities, a larger question not likely to be resolved by federal rule-making.
FOLLOW THIS TOPIC