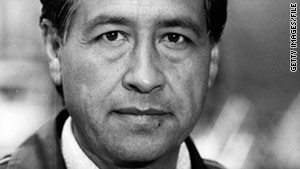 Cesar Chavez has been widely honored for turning the spotlight on the plight of agricultural laborers.
STORY HIGHLIGHTS
An activist says criticism of the name change stems from Chavez's labor movement work
Opponents say the current name is historic and officials didn't follow proper procedures
San Antonio is the latest battleground in a longstanding battle
Last week, a lawmaker criticized the U.S. Navy for naming a ship after the labor leader
(CNN) -- Plans to rename a street after Mexican-American labor organizer Cesar Chavez have sparked controversy in San Antonio, where a judge issued a temporary restraining order against the name change this week.
City Council members approved "Cesar E. Chavez Boulevard" in a 7-4 vote, but the San Antonio Conservation Society filed a lawsuit against the measure.
"We consider the name of a street historic," said Rollette Schreckenghost-Smith, the organization's president.
Advocates of renaming the 5.4-mile street say local opposition has more to do with Chavez's history with the labor movement.
"If we had picked anyone other than Cesar Chavez, we would not have had a problem," said Jaime Martinez, who has been advocating naming a street after the labor leader for more than 10 years. "He was for labor. He was for civil rights. He was for human rights. He was for the poorest of the poor. He was like Martin Luther King, and some of them are very conservative."
San Antonio is the latest battleground in a longstanding debate over how -- or whether -- to honor Chavez's legacy.
"For 20 years, communities throughout the country have been coming together to name streets after him. Some places, it's been an easy process, but in some places, it's been a contested process," said Raymond Rast, an assistant professor of history at California State University, Fullerton. "It really does boil down to who has the political power to influence and make these decisions,"
Chavez founded the National Farm Workers Association in 1962, which grew into the United Farm Workers. He has been widely honored for turning the spotlight on the plight of agricultural laborers, helping bring them better pay and safer working conditions.
His name is on street signs across the country. Ten states mark his birthday with a holiday. And more than 40 parks, schools and buildings across the United States bear his name, according to the U.S. Board on Geographic Names.
The U.S. Navy announced it was naming a ship after him last week, drawing criticism from a lawmaker who accused military officials of bowing to political pressure. Even some proponents of Chavez questioned the Navy's naming choice.
"I'm not trying to diminish Cesar Chavez ... but I think in the Latino community, we have a tendency to honor and throw galas and repeatedly prop up a lot of the same people," said Adriana Maestas, who wrote a post criticizing the move on Daily Grito, a Latino commentary site.
"We have to start recognizing other heroes and leaders in the Latino community. It cannot continually be all about Cesar Chavez, all the time," she wrote.
In San Antonio, the conservation society's lawsuit accuses city officials of not following proper procedures. Schreckenghost-Smith said its members do not object to recognizing Chavez, and would like to see his name on a park or education center.
"He took pesticides off of our grapes. I'm grateful to the man. He did a wonderful thing. He is a hero to all of us. We all recognize what he's done," she said. "Personally, I think he deserves better than just having a street after him. I'd like to see a statue."
The street received its existing name -- Durango Boulevard -- in 1883, she said.
In a temporary restraining order signed Tuesday, State District Judge Antonia Arteaga said "procedural inconsistencies" may have occurred.
Both sides will present their arguments at a June 6 court hearing.
"This seems to be a controversial subject. It seems to be an emotional subject. ... There's a lot of efforts to turn public policy questions into legal questions," San Antonio City Attorney Michael Bernard said. "From a legal point of view, I think the procedures were followed."
Meanwhile, officials with the National Park Service are holding public meetings to discuss the possibility of recognizing more than 80 places connected with Chavez, said Rast, who directed a study on Chavez-related landmarks for the agency.
"I think for people that oppose it, he still evokes memories of a period that was marked by intolerance and, unfortunately, violence. ... But as a history professor, I see students in their 20s, they read about Chavez in school ... and then they do see a lot of streets and parks and schools named after him in the West," he said. "When they get to college, they really want to know more about him."
CNN's Charley Keyes contributed to this report.
FOLLOW THIS TOPIC