New Jersey governor's school budget ruled unconstitutional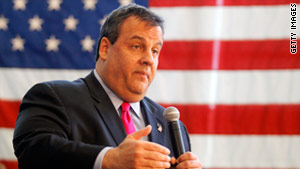 New Jersey Gov. Chris Christie said the decision "represents everything wrong" with how state government works.
STORY HIGHLIGHTS
New Jersey's state Supreme Court rules for the state's poorest school districts
Budget fails to meet funding requirements for those districts, the court said
Christie says the $500 million in question will go to the poorer districts
(CNN) -- The New Jersey Supreme Court ruled Tuesday that $500 million must be restored to the state's poorest school districts after it found part of Gov. Chris Christie's controversial 2011 budget to be unconstitutional.
"Today's ruling by the state Supreme Court is disappointing, but not unexpected," Christie responded in a press conference. "There are several reasons why I believe this decision represents everything wrong with how Trenton has historically operated and everything that I'm here fighting to change."
According to court documents, Christie's budget fails to meet the funding requirements set forth by the School Funding Reform Act of 2008, a spending formula that guarantees financial support for all New Jersey public school districts.
Particularly problematic to the court was his failure to fund the so-called Abbott school districts, 31 New Jersey districts located in poor communities that are constitutionally guaranteed adequate funding levels because of historically bad performance records.

February: Chris Christie for president?
"Like anyone else, the State is not free to walk away from judicial orders enforcing constitutional obligations," the court opinion stated Tuesday. "We can grant relief in litigants' rights only to the plaintiff class of children from Abbott districts for whom we have a historical finding of constitutional violation and for whom we had specific remedial orders in place," the documents said.
Christie argued that "the court's decision is based on a failed legal and educational theory that incorrectly reasons the key to establishing a thorough and efficient system of education is to throw more money at failing schools."
Trenton Superintendent Ray Broach, whose Abbott district school faced $12 million in cuts this year alone, said if the state Supreme Court's ruling had been different, "it could have been devastating."
"It was very important for me and Trenton," Broach added.
Christie acknowledged Tuesday that despite his differences with the ruling, he will comply, and $500 million will go to New Jersey's Abbott school districts.
However, others are pushing for further reform.
"He (Christie) has got to step up to the plate now and show that he's the governor for kids all across the state," said David Sciarra of the Education Law Center. "His job isn't done here."
"We want to fund all 205 school districts," state Senate President Stephen Sweeney said, adding that he already is looking to other areas of the budget to shift toward education.
But the governor already has declared himself removed from the process of deciding what money goes where.
"The constitutional ball is now in the legislature's court," Christie said during his response to the ruling. "It's now up to the legislature to decide how that gets done and then send it to me for my consideration."
According to the state constitution, the budget must be final by June 30.
FOLLOW THIS TOPIC