STORY HIGHLIGHTS
Universities across the country, from Harvard to Emory, are researching past ties to slavery
In 2003, Brown University was the first to publicly study it. A memorial is now being built.
Researchers said apologies are first steps to improving equity on campuses
(CNN) -- Last March, a crowd of nearly 100 gathered in Williamsburg, Virginia, for an all-day symposium about slavery and reconciliation. The event, put on by the College of William & Mary, wasn't a broad, rhetorical discussion of the past.
It was personal.
In 2009, the school acknowledged that it, "owned and exploited slave labor from its founding to the Civil War."
In response, it created The Lemon Project, named after a college-owned slave, to understand the role of race at the university.
Kimberely Phillips, an associate professor of history and American studies and Lemon Project co-chairwoman, said it's not just about slavery, "but about the lingering past with segregation."
On that spring Saturday, students, faculty and Williamsburg residents gathered to discuss research into the history of slavery at the school and how to move forward.
It's a conversation taking place on campuses around the country as they, too, discover and come to terms with their past ties to slavery. It's a history shared by Brown University in Providence, Rhode Island; Emory University in Atlanta and Harvard University, the oldest institution of higher learning in the United States. All admit they benefited from their relationships with slavery.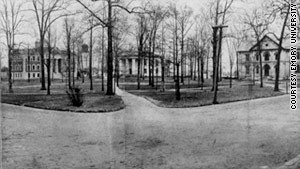 Some buildings on Emory's first campus in Oxford, Georgia, were likely built with slave labor.
Some, like Emory, were physically built by the manual labor of slaves. Early university presidents and leaders at Harvard were slave owners. Still other schools were built with money made from the slave trade.
Opinion: Civil War's dirty secret about slavery
Historian said universities are typically focused on the present, and a history tied to slavery is seen as an embarrassment. Only within the last decade have historians pieced together this past, which some institutions had previously ignored or denied.
"Universities like to represent their abolitionist, anti-slave history and not talk about their connection to slavery [because] universities became battlegrounds for people opposed to slavery versus people in favor of it," said anthropologist Mark Auslander, who teaches history at Brandeis University.
In 2003, Brown University became one of the first colleges to acknowledge its history with slavery. University President Ruth Simmons, the first African-American to lead an Ivy League school, appointed a Steering Committee on Slavery and Justice to investigate ties between the New England slave trade and the university.
The research and public affairs project commissioned at Brown walked through the history of slave-trading in Rhode Island and the New England region. A report from the school's committee outlined how the university benefited from slave trade and called for a memorial to honor the slaves.
Brown University spokesman Mark Nickel said the memorial is to be completed in 2014 in conjunction with the 250th anniversary of the school. In an effort to repair and improve relationships with the community around the university, Brown set up an education fund for children in Providence.
Other schools are at other stages of researching and reconsidering their histories.
In January, Emory issued a statement of regret as they kicked off the school's 175th year.
"Emory regrets both this undeniable wrong and the university's decades of delay in acknowledging slavery's harmful legacy," read the statement, which is not an apology, because university officials said it was inappropriate to speak for their deceased founders. The school also held a celebration to honor the slaves who built it.
Leslie Harris, an associate professor of history at Emory, said it's not only foundational to the history of the university, it's "essential to understanding the struggles of what this country is built on."
Just as people might inherit wealth when a loved one dies, they also inherit history, she said, sometimes negative and sometimes positive.
While some institutions have issued apologies or statements of regret, Emory's Harris said an apology, "has a shelf life of a day. It is not part of an effort to work toward the university's understanding of itself."
"It can't be a proclamation and then we're done. It has to be, 'Are we doing the best we can in terms of equity?'"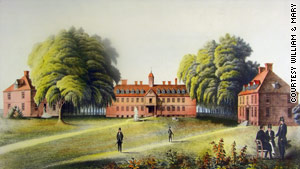 The Wren Building, a signature structure at William & Mary, seen here in a print, might have been built with slave labor.
Representatives from 30 universities gathered at Emory University in Atlanta in February for a conference on slavery at universities. Among those in attendance: Brown, Harvard, University of Virginia, Clemson University, The Citadel, Stanford University, University of Indiana and Yale University.
Organizers said it was a first-of-its-kind gathering for researchers to share and exchange ideas.
Professors at Emory, William & Mary, and Brown said it's critical for colleges to go beyond uncovering their past; they need to own it and learn from it.
"We came away with a flood of ideas and very energized," said Jody Allen, an assistant professor at William & Mary and Lemon Project coordinator.
The CNN Freedom Project: Ending Modern-Day Slavery
But the question remains: Is researching and reconciling with the past too little, too late?
Michael Lomax, president and chief executive of the United Negro College Fund, said acknowledging history matters, and he's heartened to see it happening.
He said it's a teachable moment, a chance to understand the historical foundation of a school, rather than pointing fingers in blame.
"It's not being swept under the rug, because it's being dealt with transparently and openly," Lomax said. "It's cathartic for me, but so important for my grandchildren and children that we acknowledge slavery and don't wallow in it."
FOLLOW THIS TOPIC