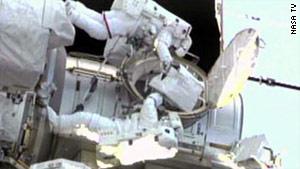 Astronauts Andrew Feustel, top, and Mike Fincke work in space Sunday.
STORY HIGHLIGHTS
NEW: The spacewalk was completed successfully, NASA says
NEW: It lasted eight hours and seven minutes
Later Sunday, astronauts will talk with students at an Arizona elementary school
The youngest victim of January's massacre in Tucson attended the school
(CNN) -- A spacewalk of more than eight hours -- the sixth-longest in history -- was successfully completed Sunday morning, the second of four spacewalks of the space shuttle Endeavour mission, NASA said.
The spacewalk, which began shortly after 2 a.m. ET, was completed at 10:12 a.m., NASA said on its website. Astronauts Andrew Feustel and Mike Fincke performed maintenance tasks on the international space station.
The two "completed all planned tasks," NASA said on its website, including refilling radiators with ammonia and lubricating Dextre, a two-armed space station robot that can handle delicate assembly tasks currently performed by spacewalkers.
The 8-hour, 7-minute spacewalk was Feustel's fifth and Fincke's seventh, according to NASA.
"I was very happy with the way both the on-orbit crew as well as the ground teams performed today," said Derek Hassmann, lead flight director for the mission, at a post-spacewalk briefing.
Later Sunday, Fincke and Cmdr. Mark Kelly will speak with students at Mesa Verde Elementary School in Tucson, Arizona -- the school 9-year-old Christina Taylor Green attended.

Spacewalk cut short

Astronauts perform space walk
Christina was the youngest of six people killed in a mass shooting January at U.S. Rep. Gabrielle Giffords' meet-and-greet in Tucson.
Giffords -- the wife of Kelly, the shuttle mission's commander -- is recovering from a gunshot wound to her head.
The talk is scheduled to air live on NASA Television at 10:45 p.m. ET, according to NASA, and viewers will be able to watch both the astronauts and the students.
"The opportunity allows students to ask astronauts orbiting the Earth questions about what it's like to live in microgravity," Cindy McArthur, Teaching From Space project manager at NASA's Johnson Space Center in Houston, said in a statement.
The mission's first spacewalk took place Friday. Feustel and astronaut Greg Chamitoff completed a 6-hour, 19-minute spacewalk at the space station to retrieve experiments, among other tasks, according to NASA.
On Saturday, Pope Benedict XVI spoke with the astronauts aboard the space station, and specifically mentioned Giffords.
"I know that Mark and his wife were the victim of a serious attack, and I hope that her health continues to improve," the pope said. Kelly thanked the pope for mentioning Giffords.
The two men also talked about how technology used in space may help relations between people on Earth.
"I think it must be obvious to you how we all live together on one earth, and how absurd it is that we fight and kill each (other)," the pontiff said.
Space shuttle Endeavour launched last Monday on a 16-day mission, its final flight.
Space shuttle Atlantis will make NASA's final shuttle voyage July 8 on a mission to deliver supplies and spare parts to the International Space Station, the agency said.
FOLLOW THIS TOPIC