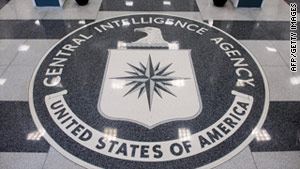 The CIA's chief recruiter says the agency is trying to break away from its image of only wanting to hire Ivy League types.
STORY HIGHLIGHTS
Speaking other languages just one item on agency's wish list
CIA also looking for non-Ivy League types
But other agencies also recruit Americans with Mideastern, South Asian backgrounds
Washington (CNN) -- The CIA's job market for secret operatives has never been more open. If you speak a language or two, are culturally aware and, even better, if you are a first- or second-generation American, you've greatly enhanced your chances of landing a job at the nation's spy agency.
Diversity is the name of the game at the agency. As CIA Director Leon Panetta recently put it, "We have to be an intelligence agency that looks like the world we have to engage in."
The agency is seeking Americans from a variety of ethnic backgrounds.
The diverse workforce goes beyond race, ethnicity and heritage. The CIA chief recruiter, Patty Brandmaier, said, "It's also background. It's also education. It's also life experiences or different professional experiences, different ways of thinking to bring to bear on our mission."
Language skills are at the forefront. Panetta said it bluntly: "I don't think you can be a good intelligence officer unless you have a language capability."
New recruiting ads are part of an enhanced effort to depict the CIA as a diverse workforce, with officers ready to drop what they're doing to meet the challenge, whether in Washington, D.C., or some distant land.
One of the TV commercials portrays an officer taking a call at home, summoning him to work to confront a crisis. At the office, he is surrounded by co-workers of different ethnicities, all actively engaged in the effort. The audio says, in part, "My working hours can change, instantly. The mission is constant, but every day is different. ... Don't just watch the news, live it, 24/7."
Another ad shows an officer who appears to be meeting with sources overseas. The last words on the audio: "One operation, one meeting could make a difference."
In its effort to recruit culturally and ethnically diverse candidates, the CIA has placed help wanted ads in Arabic and Farsi in American Middle Eastern communities from Dearborn, Michigan, to Los Angeles.
A big challenge has been convincing a skeptical Arab and Iranian-American community the CIA is a good place to work.
Brandmaier said it's been tough. She believes there is distrust because of the role the CIA plays in the Middle East.
"There are times where members of the community we are working with felt like they were going out on a limb to accept our advertising or to have a sponsor at one of their events," she said.
With threats potentially coming from around the globe, the CIA is also looking for Americans who speak Chinese, Korean and Pashto and Dari, both spoken in Afghanistan.
Brandmaier says the CIA is trying to break away from its image of only wanting to hire Ivy League types.
"We are looking at different populations in terms of education, people who didn't grow up or go to school on the East Coast," she said.
Students are a top recruiting priority for the agency, but if University of Maryland junior Maryam Elbalghiti is any indication, it has a long way to go to convince them the CIA is a desirable occupation.
Elbalghiti, who is studying advanced Arabic in hopes of joining the State Department, said, "I would have moral qualms with working with the CIA, for example because I would not want to be directly or indirectly involved with anything that would be of violent origin or have violent effects."
Competition also is a battle for the CIA. The key demographic groups -- Americans of Mideast and South Asian backgrounds -- are heavily recruited by the State Department, FBI, the National Security Agency and the Defense Intelligence Agency, among others.
CIA recruitment efforts must also contend with what Brandmaier calls the myths, everything from the glamorous lifestyle portrayed in James Bond movies, to spying on your family and friends. There is a myth-busters advertising campaign just to dispel those misperceptions about the agency.
Through hiring and training, Panetta wants to double the number of analysts and collectors who are proficient in languages and increase by 50% the number of officers who are skilled in mission-critical languages such as Arabic, Pashto, Urdu, Persian, Russian, Korean and Chinese. He hopes to reach the goal by 2015.
"Our clandestine service officers must be able to collect intelligence overseas by speaking to sources in their own language, by blending in with local people," he said. "Our analysts, to make sense of that intelligence, must understand cultural nuances and have a sense of how people in other countries think and make decisions."
Panetta said his primary mission is to defeat al Qaeda.
"It's going to depend on understanding what drives people into them, understanding the culture, understanding the society. And the best way to do that is to understand the language."
But speaking a foreign language is no guarantee that you will be hired.
"I wouldn't hire someone just because they spoke Dari or Urdu or Pashto," Brandmaier said. "We look at the whole person. So what I'm looking for in my people is character, integrity, initiative, and I'm looking for leadership."
The CIA won't announce how many people it wants to hire or how successful it has been in its diversity effort. At its heart, it remains a secret organization. But the CIA did say that in the last year, it has increased by 25% the number of officers proficient in a language other than English. That skill gets a pay bonus.
FOLLOW THIS TOPIC