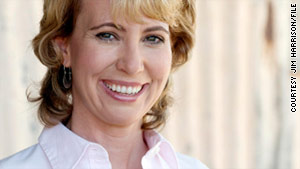 U.S. Rep. Gabrielle Giffords is the wife of astronaut Mark Kelly, who will command the last flight of Endeavour.
STORY HIGHLIGHTS
Rep. Gabrielle Giffords arrives safely for the Monday launch
NASA officials give unanimous go-ahead for takeoff
Some NASA employees get notices they could lose their jobs
(CNN) -- U.S. Rep. Gabrielle Giffords arrived safely Sunday at Kennedy Space Center in Florida, where she is expected to be among half a million people gathering Monday to view the launch of the Space Shuttle Endeavour, NASA said.
The congresswoman shot in the head during an apparent assassination attempt four months ago will watch as her husband Mark Kelly takes off as commander of the mission.
After initial treatment in Arizona, Giffords, D-Arizona, has been undergoing rehabilitation at the TIRR Memorial Hermann center in Houston.
NASA announced her arrival in a tweet, and a similar announcement was posted on her Facebook page.
"Go Gabby. You can soooo do this, girl!" read one Facebook comment. "God bless you and Mark, true patriots and American heroes both!" read another.
Giffords, along with President Barack Obama, were in Florida on April 29, when Endeavour was originally slated to launch. But that lift-off was scrubbed because of a problem with a heater aboard the shuttle.
NASA officials on Saturday unanimously gave the go-ahead for the Monday launch, thanks to positive results on all preflight checks.
"The system looks good, the weather looks good, and we should be in good shape for launch," NASA Space Shuttle Program Launch Integration Manager Mike Moses told reporters. "In our minds, we are good to go."
Liftoff is scheduled for 8:56 a.m.
Kathy Winters, the space agency's launch weather officer, said there is a 30% chance that strong crosswinds or a low-cloud cover could force a launch delay Monday. Conditions are expected to deteriorate should the mission's start be pushed back to Tuesday, with a 60% chance of postponement. The weather is likely to improve considerably by Wednesday, according to Winters.
Endeavour is scheduled to return on June 1. That is the same day that Atlantis is slated to roll out to the launch pad, in anticipation of the final mission in the space shuttle program's 30-year history.
The shuttle program's end, and the uncertainly surrounding the future of NASA and the U.S. space program, have been hot topics in recent months. NASA's shuttle launch director Michael D. Leinbach acknowledged Saturday that "the mood is a little bit downcast" in the space agency, especially with some NASA employees getting notices this week warning them that they could lose their jobs.
"The timing is a little unfortunate, but we've all known it's been coming," he said.
Endeavour entered service in 1992 as a replacement for the ill-fated Challenger, which exploded in 1986.
Leinbach, who was a test director for Endeavour's inaugural mission, said the orbiter remains in prime condition 19 years later.
"She still looks awfully good out there," he said. "She's got a lot of life left in her, but that's not meant to be."
FOLLOW THIS TOPIC