Billy Graham hospitalized for pneumonia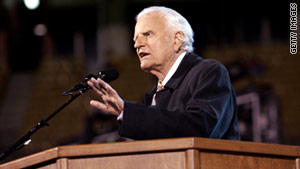 Billy Graham, shown in 2004, has provided counsel to generations of U.S. presidents, beginning with Harry Truman.
STORY HIGHLIGHTS
NEW: Billy Graham in good spirits and humor, spokesman says
Evangelist being treated at hospital in Asheville, North Carolina
He is reported to be in stable condition and alert
Spokesperson expects Billy Graham to go home soon
(CNN) -- Famed evangelist Billy Graham, 92, was being treated Wednesday at an Asheville, North Carolina, hospital for pneumonia following an overnight health episode, according to a spokesman.
Graham was in good spirits and humor and signed all admission forms, spokesman A. Larry Ross said.
Initial pulmonary testing suggested pneumonia, and further tests showed Graham's heart was normal, Mission Hospital said.
The minister, who lives in nearby Montreat, North Carolina, was reported to be in stable condition and fully alert. He was receiving antibiotics.
No date was set for Graham's release, but Ross said he hopes it will be soon.
Graham had episodes of sweating and coughing overnight, according to Ross. The evangelist had a slight fever and difficulty breathing, but was not believed to be in an acute situation.
The founder of the Billy Graham Evangelistic Association has preached to millions over six decades, and has provided counsel to generations of U.S. presidents, beginning with President Harry S. Truman.

2010: Graham attends library ceremony
Graham's son, Franklin, was on a humanitarian mission in North Korea for Samaritan's Purse, a relief and evangelism organization. Franklin Graham leads the evangelistic association and was not expected to return home because of his father's illness.
Daughter Anne Graham Lotz will continue a missionary trip to Israel, Ross said.
The pastor expressed appreciation to the medical staff and hospital and had a large lunch because he missed breakfast, Ross said.
Billy Graham has been hospitalized or treated for several ailments over the years, including head surgery, a fall, intestinal bleeding, prostate cancer and Parkinson's disease. According to Ross, Graham has remained in good health overall.
Age-related conditions -- including macular degeneration and hearing loss -- have kept Graham at home in recent years, but the evangelist is involved in writing projects, including a manuscript for a book about aging, Ross said.
Graham's wife, Ruth Bell Graham, died in 2007.
CNN's Anna Rhett Miller contributed to this report.
FOLLOW THIS TOPIC