Tennessee school wins Race to the Top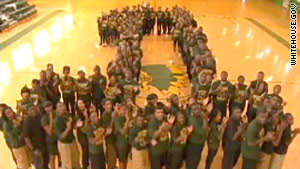 Students at Booker T. Washington High School in Memphis celebrate their No. 1 status.
STORY HIGHLIGHTS
Graduation rate at poor, African-American high school zooms
Obama will speak at graduation ceremony in Memphis
3-year-old school reforms also reduced violence
(CNN) -- As the Mississippi River rises in Memphis, one group of students and teachers are distracted by some good news.
Their school, Booker T. Washington High School in Memphis, has won the White House's Race to the Top Commencement Challenge, the White House announced Tuesday.
Vice President Joe Biden called the school's principal Tuesday to announce their selection. The school beat five other public high schools that were finalists in the competition to showcase the best ways to prepare students for college and their future careers.
"This is an unbelievable moment for our students, staff, and the entire BTW community," Principal Alisha Kiner said. "Since this process began, we have been humbled by this experience and the overwhelming outpouring of love and support from the city of Memphis."
In a statement, President Barack Obama said, "Booker T. Washington High School proves what can be accomplished when students, teachers, parents and administrators come together to support achievement in the classroom. I'm looking forward to delivering the commencement address at this extraordinary school soon."
The presidential speech is the reward for winning. According to the school's website, the graduation ceremony will be May 20.
The school has high teen pregnancy and HIV/AIDS rates and a history of violence. But the school's graduation rate has risen from 55% to nearly 82% in the past four years.
"Even though they live in the poorest ZIP code in the city, the educational outcomes that they are producing are among the highest in the city," Memphis Schools Superintendent Kriner Cash said.
The inner-city school has a student body that is 100% African-American with 98% of students eligible for free or reduced lunch. They had a "culture of failure," according to Cash.
Then, three years ago, the school system adopted a menu of reforms.
The principal at Booker T. Washington put in place many of the suggestions, including gender-based classes for freshmen; assigning the best teachers in the core subjects of English, mathematics and science; and increasing the number of Advanced Placement courses offered to the students.
AP courses are considered a good way to prepare students for the rigor of college.
The school now has the lowest number of serious violence incidents and the highest attendance rate of all of the Memphis high schools.
This is the second year of the White House's Race to the Top Commencement Challenge. Last year, Kalamazoo Central High School in Michigan won the contest. The initiative is part of the administration's challenge for the United States to have the most college graduates in the world by 2020.
CNN's Sally Holland contributed to this story.
FOLLOW THIS TOPIC