STORY HIGHLIGHTS
Cheap labor drew North Carolina textile industry away from state
Firm supports state's ailing textile industry by making shirts with locally grown cotton
Farmer: "It was a thrill to say, 'Hey, I actually grew the cotton that made this shirt' "
Company: Rising labor costs abroad could give U.S. manufacturers an edge again

Burlington, North Carolina (CNN) -- If you ever run into Ronnie Burleson in rural North Carolina, be ready to listen. He likes to talk. And when it comes to growing cotton in the Tar Heel state, the third-generation farmer has a lot to say.
"We don't have irrigation, and we don't have a lot of depth of soil," Burleson says. "So cotton is a more resilient crop for us. Year in and year out, we're better off planting cotton."
But pardon Burleson if he doesn't have a lot of time to chat right now. With May ushering in good weather at last, Burleson and his workers are busy planting cottonseed in 2,500-plus acres of North Carolina soil -- more than Burleson has ever planted before.
"Prices are good for us to go ahead and file a good price on cotton," Burleson says. "So that being the case, the more cotton we can grow, the better off we are."
Photo gallery: Grown and made in North Carolina
With the cotton commodity trading around $1.45 per pound (and more than $2 per pound in March), the North Carolina Department of Agriculture and Consumer Services predicts that Burleson and his fellow farmers in the state will jump at the chance for increased profits and plant nearly 750,000 acres of cotton this year -- an increase from last year of more than 36%, and the most cotton planted in the state since 2006.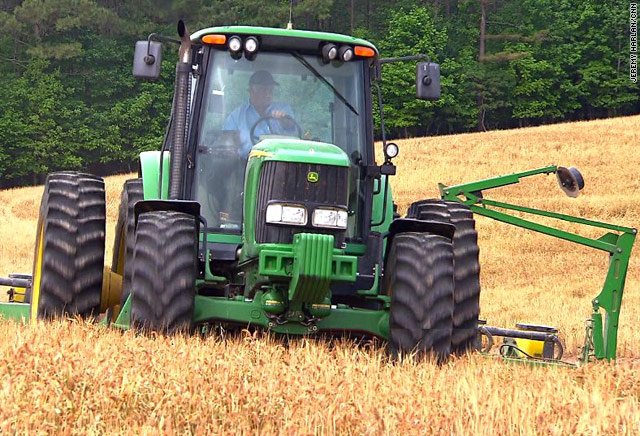 Gallery: Grown and made in North Carolina
One company hoping to take advantage of this abundance of cotton is TS Designs, a small T-shirt printing company in Burlington. In manufacturing quality T-shirts within the state, TS Designs aims to preserve environmental resources and restore part of the crippled North Carolina textile industry in the process.
Regional farmers and manufacturers have banded together to form Cotton of the Carolinas, a collaboration aimed at promoting the use of locally grown cotton.
"The genesis of Cotton of the Carolinas was this idea that the growing of cotton here in the United States and then exporting that to far-ranging regions of the world, in the long run, just didn't make sense," says Sam Moore, an adviser to TS Designs.
Moore, along with friend and TS Designs President Eric Henry, made the decision to manufacture T-shirts from cotton grown, ginned, spun, knit, finished, cut, sewn, printed and dyed all within the state's borders.
"The transportation distance of a conventional T-shirt that you buy in a big box store can vary drastically. If China is involved, then you're talking, as the crow flies, at least 17,000 miles," says Eric Michel, the company's vice president of operations.
"Our shirts go from dirt to shirt in less than 700 miles. That's actually including roads and not as the bird flies."
TS Designs has three main objectives for Cotton of the Carolinas: to reduce the transportation footprint, to support jobs in North Carolina and to have a transparent supply chain. "We can build an entire supply chain here in North Carolina," Michel says.
TS Design's first step in achieving these goals was to call Burleson.
"They wanted to convince us that this was a good thing and (that we should) be a part of it. I said, 'Sure,' " Burleson recalls. "If I can support my neighbor and they can support me, then I think that's a good thing for all of us."
Truth be told, the start-up cost for the project did not pose much downside for Burleson. Of the thousands of cotton bales he harvested in 2008, Cotton of the Carolinas bought only a few dozen, enough to make 8,500 shirts in 2009, its first year of existence. But it was just one shirt that sold Burleson on the new idea.
"I'll never forget, we gave one to Ronnie, and he had never seen a product that he knew was made out of his cotton before," Michel says. "His cotton just enters the commodity market, and once it hits the market, it's no longer identifiable."
Burleson recalls his satisfaction in seeing his cotton in an end product. "It was a thrill to say, 'Hey, I actually grew the cotton that made this shirt.' "
Now, two years after that initial contact with Burleson, TS Designs predicts that it will make more than 26,000 shirts, all manufactured by textile workers within the state.
Indeed, the supply chain of which TS Designs is part supports more than 700 local jobs. Once the cotton leaves Burleson's farm in Richfield, it travels to his nephew's cotton gin down the street in New London.
The production trail continues to Hill Spinning in Thomasville, Mortex Apparel in Middlesex for knitting and back west to Statesville for finishing at MoCaro Dyeing and Finishing. From there, the cotton returns to Mortex for cutting and sewing before ending up at TS Designs in Burlington to be printed and dyed.
In keeping with its goal for the supply process to be transparent, TS Designs provides detailed information about the cotton's journey on its website.
"If you go to the Cotton of the Carolinas website, you'll be able to trace the exact route that T-shirt took from dirt to shirt," Michel says. "It has pictures and contact info (for) the people in charge of these organizations. You can contact them and learn about anything on this T-shirt."
Notably, this local production process does not come without a cost. Each T-shirt sells for about $20 to $25 after a retail markup. "The biggest cost increase is just the fact that it's all done in the U.S. U.S. labor is just more expensive," Michel says. "But that's what we support. We want to keep jobs here. We want to keep our jobs."
Moore, the adviser to TS Designs, points to rising labor costs abroad and other factors as an opportunity for U.S. manufacturers to regain an edge over time.
"The textile industry left to take advantage of very low labor rates in other parts of the world. Ultimately, as those people gain purchasing power in their own countries, the hourly rates are going to go up," Moore says. "So as those costs go up, then the transportation costs, the carbon footprint cost, all of those things become externalized. At that point it becomes real costs and we become more competitive again."
And if it does, Burleson will be more than happy to sell them cotton.
"I'm just happy to help other neighbors. If I can help provide jobs for my neighbors, then in turn, they can look at me and say, 'I'm glad you could be a part of it.' "
CNN's Tom Foreman and Angie Lovelace contributed to this report.
Watch CNN Newsroom weekdays 9am to 3pm ET and weekends. For the latest from the CNN Newsroom click here.
FOLLOW THIS TOPIC