STORY HIGHLIGHTS
Mike Spann was the first American killed in combat during the U.S. invasion of Afghanistan
His father, Johnny Spann, learned of Osama bin Laden's death while driving in Alabama
"This would've been his victory day," Johnny Spann says of his son
Winfield, Alabama (CNN) -- Johnny Spann was driving down the road listening to music Sunday when he got the call: Turn on the news.
The father of the first U.S. victim in the Afghan war flipped to a news station.
Osama bin Laden was dead.
Spann swelled with emotion. He immediately grabbed his BlackBerry and logged on to Facebook, where he posted this status update: "The S.O.B. is finally dead."
"If you ask me if I am proud that he's dead, yes," Spann says a few days later, sitting in his real estate office in Winfield, a town of about 4,500 in northwestern Alabama. "Am I glad he's dead? Yes. The guy was a monster. He was a killer."
Spann's son, Johnny Michael Spann, known as Mike by his family, was a paramilitary officer for the CIA when he was killed November 25, 2001. Spann was at a fortress in Mazar-e Sharif where Taliban and al Qaeda prisoners were being held when the captives began rioting.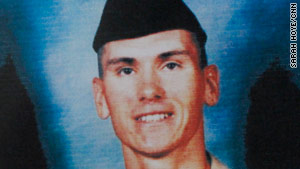 Johnny Michael "Mike" Spann served in the Marines for eight years before he joined the CIA in 1999.
Spann, 32, was the first American killed in combat during the U.S. invasion of Afghanistan in 2001. Before he left for the region, he told his 8-year-old daughter: "You know people want to kill us and they're trying to kill us. ... People like me have to go do the things that I have to do."
"This would've been his victory day," his father says. "It sure would've.
"I really feel like Mike always thought Osama bin Laden was the cause (of 9/11), and he was the cause. He was the leader of al Qaeda. He's the one who recruited people to kill Americans. And, yes, there is not a doubt in my mind that this would've been a day of victory for Mike -- to know that Osama bin Laden was caught and was killed and some form of justice was served."
Mike Spann had always been driven to get bin Laden. He served in the Marines for eight years before he joined the CIA in 1999. He was always talking about the need to get bin Laden.
"In the average household, I suppose Osama bin Laden's name didn't come up at the dinner table," the father says.
But in theirs, it always did.
On 9/11, the father asked his son who was behind the attacks. "We all know who is responsible for this," the son said. "It's Osama bin Laden."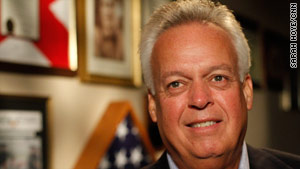 Johnny Spann says he's proud of his son, and proud that U.S. forces killed Osama bin Laden.
"Dad, if my government doesn't do something about this, I think I'm going to quit. ... We have got to go stop this. We've got to do something about it."
How would his son feel about the killing of bin Laden?
"I think he'd have felt the same way as my family at this time. We're happy. We're glad that Osama's been found and been killed.
"If you ask me, am I vindictive? Yeah, I am. (Bin Laden) didn't shoot my son. He didn't kill my son physically himself. But his people did. It was his organization, al Qaeda, that not only killed Mike but killed all the people on 9/11."
The elder Spann, an avid supporter of former President George W. Bush, says he was proud that President Obama stepped up to the plate to greenlight the killing. He wishes America's leaders had been like that in the 1990s when al Qaeda was building its base.
"We just needed somebody with enough balls to get up and say, 'You're not going to do this to American people,' " Spann says. "If we'd had somebody else in office that would've felt the same way ... during the time when Osama bin Laden was carrying out his attacks in the '90s, we wouldn't have had 9/11."
He says he's been glued to the television ever since the news. He's watched Americans who were just young children on 9/11 celebrating in the streets. He says his family hasn't "been out having parties, we haven't been out on the streets and we haven't been to any rallies.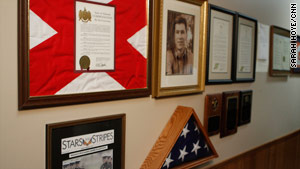 A photo, headline, resolutions and the flag that draped Mike Spann's coffin line the walls of his father's office.
"There's still an empty seat at the table," he says. "(But) I don't blame those people for doing that.
"Quite frankly, it's a good feeling to me. ... One of the fears that I had was that over a period of time that we would forget -- that we'd forget about 9/11, we would forget what happened, we'd forget about who did it to us."
Spann strolls down the hallway in his office. On the walls hang the American flag that draped his son's coffin, a black and white photograph of Mike Spann about six months before he was killed and Alabama Senate resolutions in his honor.
"America's first combat casualty brought home," reads the framed headline from the military newspaper Stars and Stripes.
The last conversation Spann had with his son was on Thanksgiving Day, just days before he was killed. His son told him he was heading to a prison where hundreds of al Qaeda members had been captured and that he was optimistic of finding clues on bin Laden's whereabouts.
"I love you, son," the dad said before they hung up.
The last 10 years have brought a lot of pain to the family. The father avoids disclosing too much information about his son's family or even where they live now. He's already lost one to al Qaeda; he doesn't want to lose another.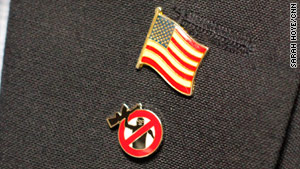 Johnny Spann wears two lapel pins: an American flag and a "fight terror" badge.
He misses his son more than words can describe. He chuckles when telling a story of his son getting his pilot's license by his senior year in high school. His son, who played on the football team, buzzed a practice; all the players looked up and waved.
"I'm proud of the fact he loved America and he was a patriot. I'm proud of the fact that he was willing to lay his life on the line and do the things that it took to lead up to the capture of Osama bin Laden."
The father wears two lapel pins on his jacket. One is an American flag. The other is a "fight terror" badge with a guy holding an AK-47 over his head with a circle and slash through it.
"I'll never take it off," he says.
Bin Laden might be dead, but for Johnny Spann the fight is far from over.
FOLLOW THIS TOPIC