NASA sources: Endeavour launch could be as late as May 13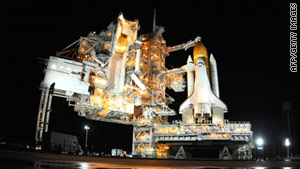 When Endeavour does launch, it will be the space shuttle's final mission.
STORY HIGHLIGHTS
The space shuttle Endeavour had a short circuit on its April 29 launch date
NASA technicians are looking at what caused the circuit to short out
The flight will be Endeavour's final one
(CNN) -- The rescheduled launch date of the space shuttle Endeavour, whose mission was scrubbed last week due to an electrical problem, remained uncertain Wednesday, but sources told CNN the next liftoff could be as late as May 13.
The launch, which will be the final flight for the Endeavour, won't be any earlier than May 10, NASA said.
Technicians continue to test the electrical system to determine what caused a circuit to short out, causing the cancellation of Endeavour's April 29 launch, officials said. The liftoff was delayed until this past Monday and then to no earlier than May 10 at 11:21 a.m., officials said.
NASA repair crews have already replaced the power distribution box that shorted out a circuit supplying power to heaters for the orbiter's hydraulics system.
The scrubbed April 29 launch postponed what promised to be an emotional moment for the shuttle's commander, Mark Kelly.
Kelly's wife, U.S. Rep. Gabrielle Giffords, D-Arizona, traveled to Florida to watch the shuttle's ascent. Giffords was shot in the head during a January 8 assassination attempt at a public event in Tucson, Arizona. She has been recovering at a Houston rehabilitation hospital.
Giffords returned Sunday to Houston and TIRR Memorial Hermann hospital, according to a post on her Facebook page.
FOLLOW THIS TOPIC