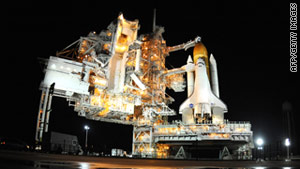 The Space Shuttle Endeavour has been delayed twice since April 29th.
STORY HIGHLIGHTS
NEW: 11:21 a.m. May 10 is earliest time for Endeavour's final launch
Giffords is back in Houston, will travel to Florida again for the launch
The initial launch was delayed for at least 72 hours on Friday
Miami (CNN) -- The final launch of space shuttle Endeavour, originally set for Friday and then delayed until Monday, now will not occur before May 10 at 11:21 a.m., officials said.
The launch was initially delayed by at least 72 hours Friday because of concerns about the shuttle's heating system. On Monday, the earliest possible liftoff date following the delay, officials announced the later date.
As part of NASA's examination of the problem, officials said, the external fuel tank was drained of its hydrogen and oxygen propellant Friday night.
The problem has been determined to be "a power problem," Mission Management Team Chairman Mike Moses told reporters Sunday.
The crew, their families and support staff were allowed to travel home, Moses said.
The delay postponed what promised to be an emotional moment for the shuttle's commander, Mark Kelly. Kelly's wife, U.S. Rep. Gabrielle Giffords, traveled to Florida to watch the shuttle's ascent. Giffords was shot in the head January 8 at a public event in Tucson, Arizona. She has been recovering at a Houston rehabilitation hospital.
Giffords returned Sunday to Houston and TIRR Memorial Hermann hospital, according to a post on her Facebook page.
"We are looking forward to the quick rescheduling of this scientifically important mission," her office said in a statement. "The congresswoman was pleased, however, to have been able to meet with President Obama and the first family."
President Barack Obama and the first lady also went to the launch site Friday, and Obama visited with Giffords for about 10 minutes, a White House official said. Obama also met the Endeavour crew, including Kelly.
Kelly was tapped to lead a crew that includes pilot Gregory Johnson; mission specialists Michael Fincke, Greg Chamitoff and Andrew Feustel; and European Space Agency astronaut Roberto Vittori.
Endeavour has logged more than 103 million miles in space, blasting off 24 times, but its 25th flight will be its last.
As NASA's shuttle program winds down with the last launch scheduled this summer, many in the astronaut corps are wrestling with what to do next. For the foreseeable future, Russian rockets will be the only way for U.S. astronauts to get to space.
Fincke spent a year in space on the International Space Station, getting there and back twice on Russian rockets. But the upcoming Endeavour flight will be his first on the shuttle.
Four spacewalks are planned for the mission. The space walkers will retrieve experiments, install new ones, refill tanks and lubricate parts at the International Space Station.
In its cargo bay, Endeavour will carry the Alpha Magnetic Spectrometer. At $1.5 billion, it is the most expensive piece of equipment a space shuttle has ever carried.
The spectrometer is designed to capture space particles like anti-matter and dark matter, about which scientists know little. The spectrometer, to be mounted outside the International Space Station, could lead to a better understanding of the origin and evolution of the universe, according to NASA.
CNN's John Zarrella contributed to this report.