6 Boy Scouts, 2 troop leaders missing in Arkansas National Forest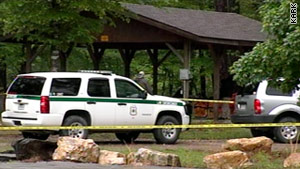 Arkansas authorities are searching the Ouachita National Forest for a missing Boy Scout troop from Louisiana.
STORY HIGHLIGHTS
Search continues for Louisiana Boy Scout troop
Weather has prevented air search
Location has no mobile phone service
(CNN) -- A Boy Scout troop from Lafayette, Louisiana, is missing after camping this weekend in a national forest in Arkansas.
Arkansas emergency official Tommy Jackson said the search by the Montgomery County Sheriff's office for Troop No. 162 continues in the Ouachita National Forest.
"We're very confident the kids and adults are safe," scout executive Art Hawkins of the Evangeline Area Council of Lafayette said. "The Scout master with them is very experienced and serves as a backpacking trainer. The average age of the youth is 14 and they are the more experienced hikers of his organization."
Arkansas State Police have tried to conduct an aerial search, but due to the weather have not been able to, Hawkins said.
Arkansas authorities describe their search as being near the scene of 2010's fatal camp flood where 20 people died in flash floods during the summer.
"We're dealing with all kinds of floods in the state," Jackson said. There's no cell service in the area and it's hampering search efforts, he said.
Hawkins said, "It's somewhat disconcerting there's no communication, but based on preplans they had, we have an idea where they could be."
The Montgomery County Sheriff's office website says the Ouachita National Forest, the South's oldest and largest national forest, is a sprawling wilderness of 1.6 million acres. There are 480 miles of hiking trails and an abundance of campgrounds.
FOLLOW THIS TOPIC