California governor has cancerous growth removed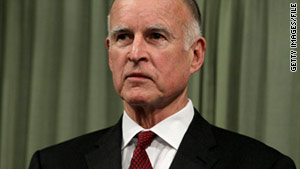 Gov. Jerry Brown does not plan to attend any public events until his stitches are removed, according to a statement.
STORY HIGHLIGHTS
Basal cell carcinoma found on side of his nose
It is a form of skin cancer
Governor misses public events
(CNN) -- California Gov. Edmund G. "Jerry" Brown Jr. had a cancerous growth removed from the right side of his nose, his office said Saturday.
Brown, 73, underwent an outpatient medical procedure Friday after tests revealed the presence of basal cell carcinoma.
Basal cell carcinoma is a type of skin cancer. It occurs most often on areas of the skin that are often exposed to the sun, such as the face and neck. Basal cell carcinoma tends to be slow-growing, according to the American Cancer Society.
All the cancerous cells were removed, the office said, but Brown's nose required some reconstructive surgery.
The governor worked at home Saturday and did not attend the state Democratic Convention in Sacramento this weekend. He does not plan to attend public events until the stitches are removed, according to a statement.
FOLLOW THIS TOPIC