STORY HIGHLIGHTS
NEW: 9 AirTran, Delta and Southwest flights should land at the airport Saturday night
NEW: During a Good Friday service, high winds ripped a 40-foot steeple off of a church
The governor calls it "astounding" that there were no deaths or life-threatening injuries
Friday's storm system damaged 750 homes, less than 100 critically, the governor says
If severe weather happens near you, we want to hear your story. Share your photos and videos with CNN iReport, but please be careful.
See more on the story from CNN affiliates KMOV, KSDK, KTVI and KPLR.
(CNN) -- A handful of incoming flights are set to touch down Saturday night at St. Louis' airport for the first time in about 24 hours after a powerful tornado hit.
The twister left behind what a National Weather Service meteorologist called "an incredible trail of devastation" -- but no deaths or life-threatening injuries -- across nine western Missouri communities.
Earlier Saturday, officials had said that they expected operations at Lambert-St. Louis Airport to resume Sunday, as the work continued to restart power, conduct safety checks and clean up the damage.
The plan now is to have the airport at 70% capacity starting Sunday morning, said St. Louis Mayor Francis Slay.
The airport announced in a press release that nine in-bound Airtran, Delta and Southwest flights should arrive on Saturday night. Airport Director Rhonda Hamm-Niebruegge said there should be activity at all the airport's terminals Sunday, despite the fact that about 50% of windows were blown out in Concourse C, the airport's main terminal.
Hamm-Niebruegge said it could take a "couple of months" to fully repair the damage, with some carriers having to use other airport locations in the meantime. Concourse C is used by American Airlines, Frontier, AirTran and Cape Air.
Wes Browning, a chief meteorologist for the weather service, said Saturday that preliminary estimates were that an EF2 or EF3 tornado -- packing winds between 111 and 165 miles per hour -- hit the airport.
Congregants unhurt, grateful after tornado hits Missouri church
In Bridgeton, the tornado's winds were even stronger, blowing between 166 and 200 miles in what the weather service has preliminarily rated as an EF4.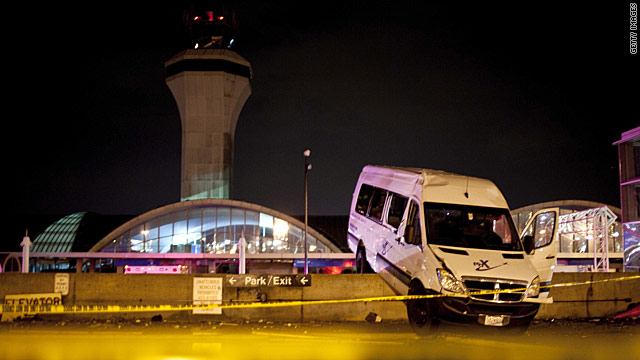 Gallery: Storm tears through St. Louis

Passengers flee as tornado hits airport

Apparent tornado closes St. Louis airport

St. Louis in state of disaster
Gov. Jay Nixon estimated that, throughout the region, the tornado caused damage to 750 homes -- fewer than 100 of which remained uninhabitable. Yet no one lost his or her life.
"It is absolutely amazing that an EF4 tornado can come through an airport and a number of municipalities that are highly populated, at a time when people weren't at work, and have no fatalities," Nixon said. "We're talking property, we're not talking about loss of life because of this. That is nothing short of astounding."
By around 4 p.m. Saturday, about 26,000 people remained without power compared to 47,000 soon after the storm hit, said Tom Voss, president of the regional power company Ameren.
St. Louis County Executive Charlie Dooley noted Saturday that shelters have been set up and other assistance has been offered to the many families impacted by the disaster.
"The look in their eyes (shows that) they think their life has been completely destroyed," said Dooley, urging volunteers to come out and help. "Folks, that is devastating."
National Weather Service forecaster Scott Truett said "one parent thunderstorm" formed near Jefferson City, Missouri, on Friday and moved east toward St. Louis to the Mississippi River. The tornado that struck the airport may first have touched down in New Melle, about 30 miles to the west.
"The path is an absolutely straight line," Garry Earls, chief operating officer for St. Louis County, told CNN.
Besides damage at the airport and in homes, strong winds wreaked havoc on businesses and even tore through the roof of a Ferguson church, where dozens had gathered on Good Friday to watch the movie "Passion of the Christ."
Church member Nancy Doggett said that, after evacuating to the basement, "We felt this vacuum, and then there was so much noise." They came up later to see the ceiling smashed in the sanctuary, the "roof ... all over the neighborhood,"and two large Christian crosses that remained intact despite the tornado.
"To have this kind of damage, we're just glad no one was hurt," minister Stacy Garner said. "Buildings can be replaced, but lives cannot."
The 40-foot steeple of Holy Spirit Catholic Church in Maryland Heights ripped off during a Good Friday service and flew by one of its windows, that parish said in a press release. No one was hurt, and Easter masses are expected to be celebrated there through the weekend.
At least five shelters had been established around the region for those displaced by the tornado. Major highways were open, but officials advised people to stay away from damaged neighborhoods, where searchers were going door to door.
"We're looking for the family that may be missing," Earls told CNN.
Inspections of buildings will take several days and hauling off debris will take longer.
Bridgeton Police Chief Don Hood told CNN that many homes were damaged in the city, where power was lost and some roads became impassable. But so far, everyone has been accounted for and there were no reported injuries, he said.
One of the main focuses this weekend was assessing the damage at the Lambert airport and getting it up and running. Five people were taken to hospitals for minor injuries and about a dozen others were treated at the airport for cuts and scrapes after the storm struck around 8:15 p.m. Friday, said airport spokesman Jeff Lea.
CNN iReporter Renata Lampkin was with her husband on American Airlines Flight 699, preparing for take-off, when heavy rain started to fall and the skies grew eerily, suddenly dark.
"The plane started rocking and then shaking violently," Lampkin said. "It felt like terrible turbulence. The air pressure kept changing, and it sounded like things were hitting the plane."
The winds blew the plane away from the jet bridge, meaning passengers had to go down stairs and take a bus to get away from the plane. On the way out, she saw a "big piece of metal" stuck in the back of the aircraft.
"We were lucky it didn't hit the cabin or engine or fuel tanks," Lampkin said.
While she didn't specify which plane, Hamm-Niebruegge said Saturday that one American airline 757 aircraft suffered significant damage and four others had a "few minor scrapes."
One van was left hanging precariously off the edge of a terminal parking garage. A video posted on YouTube showed strong winds pushing a Southwest Airlines plane away from a walkway and passengers moving quickly away from tall windows as dark clouds moved in.
Passengers were hit with flying glass and debris as winds ripped off part of the roof in the airport's C concourse, CNN affiliate KSDK said.
"All the windows were busted. ...The airport looks like a war zone," Elizabeth Rastberger, 32, told CNN's iReport.
Rastberger said she had been waiting to pick up a friend when the storm hit. After an officer yelled, "Get downstairs," she took cover in a women's restroom with about 20 others.
"Kids were crying," she said. "A woman had a busted nose. Everyone was too freaked out to talk."
CNN's Phil Gast, Greg Botelho, Carly Costello, Marlena Baldacci, Taylor Ward and Greg Morrison contributed to this report.
FOLLOW THIS TOPIC