British tourist receives special honor for catching falling child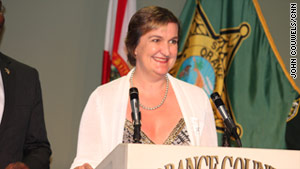 Helen Beard caught a child who fell from the fourth-floor balcony of an Orlando, Florida, hotel.
STORY HIGHLIGHTS
Helen Beard is given a "Medal of Merit" by government and business leaders
The tourist from England caught Jah-Nea Myles as she fell from a fourth-story balcony
Beard's "quick-thinking and heroic actions" are credited with saving the child's life
(CNN) -- The British tourist who caught a 1-year-old child who fell from the fourth-floor balcony of an Orlando, Florida, hotel was honored by government and business leaders Friday.
Officials credit Helen Beard's quick thinking with saving Jah-Nea Myles' life. Beard was in the pool area of the Econo Lodge Inn and Suites around 9:15 Thursday evening when, after hearing horrific screams, she looked up to see a small child hanging from a hotel balcony.
"We heard shouts and I turned around," said Beard, 44, a mother who was on vacation with her partner, Philip Charlesworth, and her 10-year-old son, Ben. "I was able to run over and catch Jah-Nea," she said.
Beard said it appeared the girl slipped through a railing along the balcony walkway, deputies told CNN affiliate WKMG.
See hotel and how far child fell
Just hours later, Beard, a health services analyst, was honored for her "heroic actions." She was given a "Medal of Merit" by the Orange County Sheriff's Department, the International Drive Chamber of Commerce and the state Department of Children and Families for showing "unusual instinct and initiative" when she leaped into action.
"It all happened so fast," said Beard, who was still shocked by all the attention. "I just sat with her and tried to calm her down while everyone was panicking around me."
Helena Myles, the child's mother, said she left her daughter with a friend in a motel room, according to WKMG. The friend, Dominique Holt, said he went to use the bathroom and then found the hotel room door open after hearing screams, the sheriff's office said.
A woman who was in the hotel room with Holt said she didn't know the child was there, according to deputies.
No charges have been filed in the case.