STORY HIGHLIGHTS
Ken Mackey, 71, defies warnings by staying behind to protect his home from wildfire
Mackey has lived at same house in Brad, Texas, since 1972
Everything around his home has been burned, including a store and a service station
Brad is about 80 miles west of Fort Worth
Are you there? Share your photos and video.
Brad, Texas (CNN) -- As far as places to make a last stand against a fast-moving wildfire go, a large woodpile has to rank among the worst.
But for five days, starting on Friday, Ken Mackey fought a blaze among the piles of cedar posts he sells for a living that are stacked 15 feet high outside his rural Texas home.
Mackey said authorities told him and his neighbors to evacuate as the wildfire began to bear down on the area around Brad, about 80 miles west of Fort Worth.
His answer to the officials, like much of the 71-year-old Texan's profanity-laced speech, can't be printed.
"What kind of a question is that, now listen!" Mackey said, treating an out-of-town reporter's inquiry about why he didn't take cover as an insult to his manhood.
"If your house is on fire or close to it, would you leave?"

Texas firefighters catch a break

Wildfires rage across Texas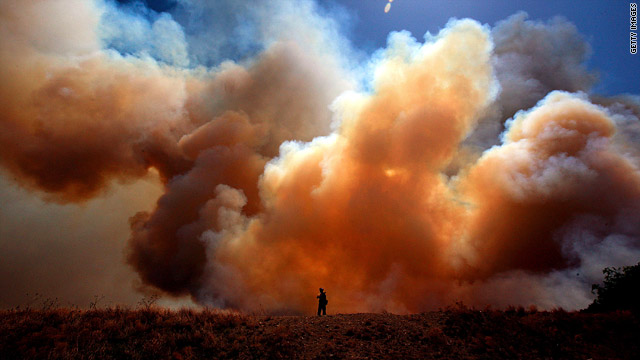 Gallery: Texas wildfires spread, devastate
Thousands of firefighters have been battling wildfires that have scorched more than 1 million acres in Texas since January as warm, dry winds blow across bone-dry landscape.
Texas wildfires claim a second life
When the recent fire blackened the sky around his plot of land, Mackey gathered shovels and pails of dirt and water to make his stand.
"I am an old soldier. I fought for my country," Mackey said, "and I'll fight for my house."
It was a fight he almost didn't win and could still lose.
The waves of flame burned up against the wooden stakes that hold the barbed wire fence around his house.
When there was a break in the winds pushing flames toward him, some of Mackey's friends and family helped him keep the blaze from taking the home he has lived in since 1972.
"We just got here and fought it by hand and shovel and buckets of water," he recalled, looking at the fence posts now burned coal black.
A single spark into the stacks of cedar around his home could have caused an inferno. Mackey said if that happened there would have been no escape.
"There's no outrunning it," he said.
His home is now an island in the devastation wrought by the fire. The cactus fields surrounding home have been burned to a crisp.
Hills behind the house are blackened from the fire. An old service station and general store next to Mackey's house were completely consumed.
Mackey tells of going to the store when he was a teenager and buying hamburgers and bottles of soda pop for a nickel each.
Mackey said the flames that burned down the buildings reached 40 feet.
"It went real hard," he said. "It didn't want to go. Snap, crackle, pop, boom. A lot of memories went up there."
A change in the weather has provided the old Texan and other residents of this hardscrabble corner of the Lone Star State with a brief respite.
Mackey isn't sure how long it will last.
Temperatures could rise, the wind could kick back up and the fire could once again spread to his doorstep.
But one thing is for sure: Mackey is staying put.
"That's life. You have death behind it; you never know when it's going to come," he said. "I ain't gonna say I am out of harm's way 'cause I ain't."
FOLLOW THIS TOPIC