STORY HIGHLIGHTS
TerraCycle takes waste and either recycles or reuses the material

It calls its programs "brigades" and has 43 collection brigades in the U.S.

New Jersey school helps fund environmental club through candy wrappers, juice pouches

TerraCycle founder Tom Szaky says, "In every case, it's better to recycle"
Tune in at 3 p.m. ET Saturday for a special Earth Day edition of CNN's "Green Solutions: In Focus." The award-winning series produced by CNN photojournalists brings you stories of people's efforts to save the planet and nourish a nation.
(CNN) -- The way Tom Szaky sees it, just about everything you put in your trash can, you can send to him.
Well, his company, that is.
TerraCycle will take hard-to-recycle items or garbage such as juice pouches, chip bags, toothbrushes and pens and work with companies to reuse them in backpacks, park benches, cutting boards and other items.
"Our goal is to open in every country around the world and collect every type of waste," Szaky said by phone between business meetings in San Francisco. "We have big ambitions to try to solve this for all. Our model works for every type of garbage so why not bring it to everyone?"
The TerraCycle model works like this: You sign up to be in a brigade -- say the candy wrapper brigade. You collect them, box them up and send them (for free) to a TerraCycle collection center. The company will donate 2 cents per wrapper to a school or charity. Checks range from $10 to "big dollars," Szaky said.
TerraCycle was founded in 2001 as a organic fertilizer company. Szaky, then a student at Princeton University, went to a friend's place where red wiggler worms were fed leftovers and produced a liquid waste that worked pretty well as a plant food.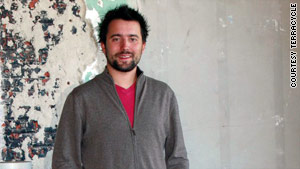 Tom Szaky started TerraCycle in 2001 after finishing fourth in a Princeton University business contest.
Szaky entered the idea of doing the compost tea on a mass basis in a university contest but finished fourth. Undeterred, he started maxing out credit cards and borrowing cash to start a new "worm poo" company.
Three trying years later, he had a product to sell to major home improvement stores.
He also had a unique idea for how to get spray bottles for his product. He started a "Bottle Brigade," where volunteers sent in used soda containers. Some companies were fascinated by the idea and inquired about working together.
"I started getting calls from people in industry, and they asked if we could expand this to other waste streams," he said.
The second brigade (juice pouches) started in 2007, and now TerraCycle collects "hundreds of different types of waste in 14 countries," he said.
The company collects 1 million juice pouches every two to three days.
Sharon Ernst, a fifth-grade teacher in East Amwell Township, New Jersey, said her school has collected enough juice pouches and candy wrappers to pay most of the costs of its environmental club.
The kindergarten-through-eighth grade school, which has about 500 students, won a TerraCycle contest last year by collecting more than 54,000 candy wrappers in a two-month period. In total, the school has sent back more than 200,000 items.
"My room does look like a recycling center," Ernst said, laughing. "Some of the kids really get into it. I even have parents who collect at their jobs."
The school has been collecting for more than three years, going back to a time when Ernst wanted to find a way to make money for the club that was tied to sustainability. She heard TerraCycle would collect Capri Sun pouches and pay the school for them.
And if you've ever sent a kid off to school, you've likely included some juice drink at some point. All it took was setting up a collection bin in every teacher's room and a couple in the cafeteria. The school joined other brigades as the company added them.
Now the school gets two checks a year, sometimes as big as $1,500, Ernst said. The children also get a lesson in two of the three Rs (reduce, reuse, recycle).
"They see that they can play a part," she said. "I tell them all the time that recycling is going to be even bigger as they grow up. They are starting to realize the role they have in that."

Prom dress made from Starburst wrappers
They also get a chance to be more hands-on with their science. Ernst uses the recycling money to buy gloves, tools and seeds for the school garden, and the students see firsthand some of the things in their textbooks.
Ernst said the school will probably sign up for the newest brigade, which collects the Solo cup -- the plastic cups you see at birthday parties, backyard cookouts and tailgates. TerraCycle and Solo announced the partnership last week, saying the money will be donated to schools or Keep America Beautiful, a nonprofit group that sponsors neighborhood cleanups and other community improvement projects.
Another new project is a test in Brazil, where residents can send in used diapers. Yes, used diapers.
Just take the poopy drawers, put them in a bag and mail them to TerraCycle, Szaky said.
The baby waste is composted, while the plastic is pelletized and used in other plastic products, said Albe Zakes, a TerraCycle spokesman.
TerraCycle doesn't actually make new products, Szaky said. It sells the recovered waste to companies that usually would use virgin materials. One of the companies it works with is Expo pens. TerraCycle collects pens, melts the plastic, and Expo makes new pens with the material.
It makes more sense environmentally to do it this way, Szaky said.
He said the five dedicated scientists at TerraCycle have done a "tremendous number" of life-cycle tests to determine which products would be best to recycle rather than throw in a landfill or burn for energy.
"In every case, it's better to recycle," he said.
FOLLOW THIS TOPIC