Toyota making drastic production cuts after Japan quake, tsunami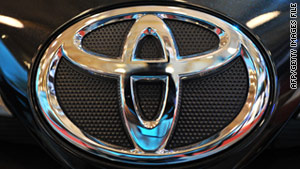 Toyota announced more cuts as supply chain woes mount.
STORY HIGHLIGHTS
Production has been suspended on Mondays and Fridays
It will run at 50% on Tuesday, Wednesday and Thursday
Production in U.S., Canada to be suspended in May
(CNN) -- Toyota Motor Corporation on Tuesday announced dramatic production cuts in North America because of difficulty in supplying parts following the massive 9.0-magnitude March 11 earthquake and subsequent tsunami in Japan.
Previously, Toyota Motor Engineering and Manufacturing North America, Inc. (TEMA), had said it would suspend production on Mondays and Fridays between April 15 and April 25. That will continue through June 3, the company said in a statement.
"During the same period, production will run at 50% on Tuesday, Wednesday and Thursday," the statement said.
In addition, Canadian production will be suspended for the week beginning May 23, and U.S. production for the week starting May 30.

Japan quake shakes up auto industry

GM unveils new car for China-only brand
No decisions have been made for production after June 3, according to Toyota.
"No layoffs are planned during this period," the statement said. "Team members will utilize non-production time for training and plant improvement activities."
"We are trying to continue production as much as possible and keep our workforce intact in order to facilitate a smooth transition back to full production when all parts are available," said Steve St. Angelo, executive vice president of TEMA, in the statement.
Last month, Toyota told its U.S. plants to prepare to shut down because of parts supply problems.
Toyota employs 25,000 manufacturing and research-and-development workers in North America. It operates nine plants in the United States in Kentucky, Indiana, Texas, Tennessee, Alabama, West Virginia, California and Mississippi. It also operates three plants in Canada and one in Mexico.
FOLLOW THIS TOPIC


Part of complete coverage on

One effect of Japan's deadly quake has been to remind many of the importance of family and to drive them to the altar.

Toyota has announced drastic production cuts due to difficulty in supplying parts following the earthquake in Japan.

There's an eerie stillness about the desolate buildings and empty streets of Pripyat.

A photographer documents the ghost town left behind by the nuclear crisis in Japan. What he found was a "time stop."

Somber ceremonies mark one month since the earthquake and tsunami killed as many as 25,000 people.

Witnesses capture the very first moments of the devastating tsunami that struck Japan in March.

A month after a devastating earthquake sent a wall of water across the Japanese landscape, the global terrain of the atomic power industry has been forever altered.

Engineers use a flying drone to peer into the damaged reactors at the Fukushima Daiichi nuclear power plant.


Most popular stories right now