Yale senior dies in machine shop accident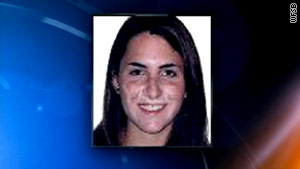 Michele Dufault of Scituate, Massachusetts, was an astronomy and physics major who was to graduate in May.
STORY HIGHLIGHTS
Michele Dufault's hair got caught in machine while working on project, Yale says
Accident happened at chemistry laboratory's machine shop
Astronomy and physics major was due to graduate in May
Students who were working in the building found her body, Yale says
(CNN) -- A Yale University senior was killed in an accident in a chemistry laboratory's machine shop late Tuesday or early Wednesday, officials at the Connecticut school said.
Michele Dufault of Massachusetts was working on a project in the Sterling Chemistry Laboratory's machine shop when her hair got caught in a lathe, a machine that shapes material by rotating it against a tool, Yale President Richard C. Levin said in an e-mailed statement. Her body was found by other students who were working in the building, Levin said.
The cause of death was asphyxia due to neck compression, and the manner was accidental, said Kathy Wilson, an investigator with Connecticut's Office of the Chief Medical Examiner.
The machine shop at the Yale lab is a place where students can construct or modify research instrumentation, according to the chemistry department's web site.
"The university has programs to train students before they use power equipment. Nonetheless, I have initiated a thorough review of the safety policies and practices of laboratories, machine shops and other facilities with power equipment that is accessed and operated by undergraduates," Levin said.
Levin's statement didn't say whether Dufault was alone in the machine shop when the accident happened. A call seeking additional comment Wednesday from Yale spokesman Tom Conroy was not returned.
The laboratory was closed Wednesday because of the accident, and the day's classes at the lab were canceled. Levin said he met with Dufault's parents Wednesday, and her parents will return to campus for a memorial service before the end of the semester, Levin said.
Dufault, who was majoring in astronomy and physics, was from Scituate, Massachusetts, and was due to graduate next month, CNN affiliate WTNH reported.
Dufault "also had keen interest in oceanography and was intending to undertake work in that field after graduation," Levin said.
"She was an enthusiastic saxophonist in the Yale Band, and a widely admired member of (Yale's) Saybrook College community," Levin said.
One of Dufault's friends, Jeremy Lent, told CNN affiliate WFSB that she was "one of the most delightful, kind-hearted generous (people)."
"Nobody deserves what happened to her," Lent said.
FOLLOW THIS TOPIC