STORY HIGHLIGHTS
Kirby Brown, 38, died in a sweat lodge operated by self-help author James Arthur Ray
Her life was filled with friends, family and adventure, but she wanted more
She turned to Ray to decide what she wanted from life, to set goals and achieve them
Expert Christine Whelan says Brown was typical of the people drawn to Ray
An Arizona court on Thursday found James Ray guilty of negliglent homicide in the death of Kirby Brown and two others who participated in a sweat lodge ceremony led by Ray in 2009. This profile was originally published in April.
Sedona, Arizona (CNN) -- She was a free-spirited adventurer who lived in Mexico in an octagonal art-filled house on "Gringo Hill," overlooking the Sea of Cortez. Her high-end interior painting business was taking off. And on many mornings, she shared the waves at Old Man's break with the legends of long board surfing.
As summer faded into fall in 2009, Kirby Brown stood at a crossroads. Although her bohemian lifestyle in San Jose del Cabo was the envy of her friends, she felt something was missing.
At 38, she was still searching for her one true love. She craved financial stability. She wanted children. And so, her family and friends say, she dedicated herself to introspection and self-improvement.
"Trying to find that bigger meaning was important to her," said her brother, Bobby Brown.
To that end, she lived "a self-styled life," added her sister Jean Brown, who admired Kirby's ability to set priorities and create "a wonderfully abnormal life."
She constantly tried new things, and when she found something she liked, it became a part of her. So, it was no surprise to the people who knew Brown that when she turned her light inward, she gave it her usual "135%."
She was "not overly 'New Agey,'" said her longtime friend and confidante, Emily Forbes, "just looking outside the box."
From the best-selling author Caroline Myss, who blends mysticism, spirituality and healing, Brown learned, "We are in charge of our happiness," said Forbes, her best friend since their freshman year at the State University of New York at Geneseo.
But Brown remained a healthy skeptic. "I don't think she got too hung up on the different chakras."
She was drawn more to the practical approach of James Arthur Ray, whose seminars challenged participants to shed fears and old baggage and build "harmonic" lives with personal and financial success in balance. Believing the so-called "mystical millionaire" could coach her on how to "live impeccably," as he put it, Brown ponied up $9,695 -- her life's savings -- for Ray's Spiritual Warrior seminar in Sedona, Arizona, in October 2009.
Afterward, she planned to study the Venetian style of faux-finish painting with a master in Minnesota. Then she would head west again, stopping off to visit friends and cousins in Colorado on the way to San Francisco for a big painting job that would keep her busy until the holidays.
But when it came time to leave home for Ray's seminar, Brown had second thoughts.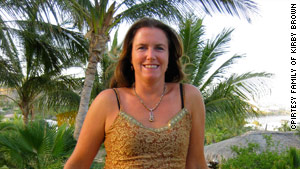 Kirby Brown leans against a wall outside her home on "Gringo Hill" in San Jose del Cabo, Mexico.
"She was just ripping on the surfboard, riding with the guys," Forbes said. "She didn't want to go, but it was nonrefundable."
Forbes' sister, Samantha Etesse, who often worked on painting jobs with Brown, urged her to skip the seminar and keep on surfing.
"I said, 'That's your church, honey. What else are you looking for?'"
But Brown was a seeker.
"She was constantly looking for ways to make herself better, even though she already was an amazing person," said Billy Dahly, a commercial real estate appraiser from Denver, and one of her surfing friends in Mexico.
So she headed to Sedona's mystical red rocks in search of enlightenment. There, she would be asked to get a buzz cut, go without sleep and fast for 36 hours before squatting in her bikini on the dirt floor of a makeshift sweat lodge.
At the end of the five-day seminar, Kirby Brown's life wasn't enriched. It was over.
'We can do it'
Ray was charged with manslaughter in the deaths of Brown and two other participants. His trial is entering its seventh week in Camp Verde, a half-hour drive from the vortexes and feel-good soul searching of Sedona.
Judge declines to grant mistrial
Kirby Brown has emerged as one of the trial's most compelling figures. Her name is mentioned almost every day in the courtroom where her parents, George and Ginny Brown, often sit in the front row, holding hands behind the prosecution team.
"Kirby Brown was really the epitome of the type of person who would go to these retreats," said Christine B. Whelan, a visiting sociology professor at the University of Pittsburgh who has studied the self-help industry for a decade. She did not know Brown personally but is following the case.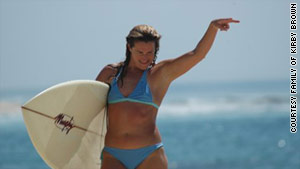 Kirby Brown fed her soul by surfing, friends say. She was driven to get the most she could out of life.
"We like to think that these people were different from us, that they were lemmings," Whelan said. "But they're not. These are very motivated, focused individuals who are trying to improve their own lives and carve their own paths out for themselves."
The trial is being broadcast live and Brown's brother, sisters and friends are following the testimony online. They've heard how she spent her final conscious moments rocking back and forth, knees drawn to her chest, chanting, "We can do it. We can do it."
"It was 'We can do it,' not 'I can do it,'" Dahly said. "She would never, ever walk out on the people who were with her in her tribe."
Prosecutors allege Ray was negligent in the way he operated the sweat lodge. They say he didn't monitor the temperature inside or the well-being of participants and was indifferent to those clearly having trouble. They allege that his recklessness caused the deaths of Brown; James Shore, 40, of Milwaukee; and Lizbeth Neuman, 49, of Prior Lake, Minnesota.
Ray's lawyers counter that what happened was a tragic accident, not a crime. They have asked each witness who attended the sweat lodge whether he or she signed a release form warning them of the dangers. All replied that they signed, but some said they didn't read the form.
The defense team says it will prove Ray's innocence at the trial, telling jurors that prosecutors focused on him early in the investigation, overlooking other factors that could have caused the three deaths.
Ray's mother, who is in court almost every day, says he's being misportrayed as callous.
Experts consider the trial historic. "This is a big deal," Whelan said. "This trial about whether a self-help guru can be held criminally responsible for manslaughter is going to have a very big impact on the industry, as well it should."
The self-help industry -- which includes books, tapes, DVDs and seminars -- rakes in an estimated $11 billion a year, Whelan said. It is not regulated.
At the top of the self- help industry are its establishment -- names like Deepak Chopra and Tony Robbins. Ray was in the second tier, but on the rise. He'd written a bestseller and appeared on "The Oprah Winfrey Show" and "Larry King Live." His company, James Ray International, made $9.4 million in 2008, Whelan said.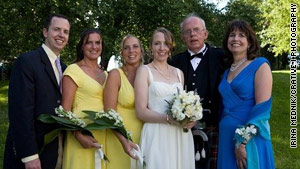 The close-knit Brown family, from the left: Bobby, Kirby, Katie, Jean, George and Ginny gathered at Jean's wedding in 2009.
The Browns filed a civil lawsuit against Ray and settled out of court, said Robert Magnanini, a cousin of Brown who is also the family's lawyer. A confidentiality agreement prevents him from discussing the terms.
But the Browns, like their daughter, are seekers. They want more than courtroom justice for their oldest child. The family hopes to set up a website and foundation in her memory to educate people about the self-help industry, her sister Jean Brown said.
Educating consumers about the dangers of extreme self help is a cause Whelan embraces.
"I keep telling people, if you were there, you would have died, too. You would have been just like Kirby and the others," Whelan said.
Even in her death, Dahly said, Brown "has created a movement." She is tapping into her highest self, mobilizing others into action.
A force of nature
"Hurricane Kirby," her family called her.
Her gift was connecting with people. Her upbeat spirit was infectious, and she had a flair for bringing out the best in her friends and her surroundings.
"Kirby Brown was the queen of style," recalled Dahly. She even camped in style.
"She had candles everywhere and amazing white linens on the air mattress," he said. "She could take a shed in somebody's backyard and make it into a place you'd want to live in."
Her painting job gave her a creative outlet and allowed her to travel. Her address book bulged with an eclectic collection of friends she called "darling," "sweetie" and "baby."
The oldest of four children, she was born in Brooklyn but moved with her family to Westtown, New York, in the mid-Hudson region, when she was young.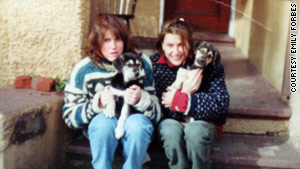 Kirby Brown, left, met best friend Emily Estesse-Forbes, during their freshman year at SUNY's Geneseo campus.
At 10, she talked her parents into giving her a horse, named "Happy Dot." When she got older, she taught riding lessons and then managed an Arabian horse farm in her hometown.
For her first adventure, she moved to Manhattan, where she drove limousines. It was the start of a trend. Brown would pick a place to live, and then find a job there.
Her parents worked as mental health professionals. George Brown was employed by New York state for years, before opening his own practice. He counseled first responders after the 9/11 terrorist attacks. Ginny Brown was a counselor for the archdiocese.
They raised their children as Roman Catholics and taught them to think for themselves. Kate is married and raising a family in Florida; Bobby works as an operations manager at Madison Square Garden and Jean has a master's degree in business administration.
Because they are on the witness list, Ginny and George Brown could not speak for this story. But they are the hub for their children and Brown's friends, who did the talking for them.
Her cousin, Magnanini, remembers going on National Lampoon-style family vacations with the Browns when Kirby was small. There was always some disaster -- a flood or a hurricane. He believes the vacations gave Brown an adventurous spirit, as well as resilience.
As an adult, she traveled to France, St. Croix, Lake Tahoe, Thailand and Mexico and took several months off each year to visit far-flung friends and family members.
For the summer of 2009, she headed home to Westtown; her two sisters were married a month apart and her new nephew, Angus, was christened.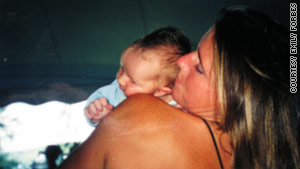 Kirby Brown, holding a friend's baby at a wedding, joked that she was always "Aunt Kirby" but wanted a family.
She often joked as she held friends' babies that she was destined to always be "Aunt Kirby." But she longed for a committed relationship so she could start a family of her own. She didn't lack for male admirers, and had been engaged a couple of times, most recently to a pilot. But she was the one who always got cold feet and broke things off. She told friends she doubted her ability to choose the right man.
She felt it was time to dig deeper, to figure out what she wanted out of life, and how to get it.
Her introduction to James Arthur Ray had come in Mexico, where she attended one of his free seminars.
Ray, an Oklahoma preacher's son and former telemarketer, was a corporate motivational coach at AT&T who launched his own self-help empire after attending a Tony Robbins seminar.
His multi-step "Harmonic Wealth" program was based on five pillars of success: Financial, Relational, Intellectual, Physical and Spiritual.
Brown told friends about her interest in Ray, but she didn't talk like a zealot. She'd suggest they see the film "The Secret" or read his book, "Harmonic Wealth: The Secret of Attracting the Life You Want."
Dahly told her he didn't buy what Ray was selling. "She took a little offense," he recalled. "She said, 'You just aren't ready for this.' That was the first time there was a little wall between us."
After that initial class in Mexico, she attended two more of Ray's introductory courses, one back east and another in San Diego.
There, a woman stood up and announced she was looking for Mr. Right, and Ray suggested the five-day Spiritual Warrior event, held each year at the Angel Valley retreat in Sedona. That got Brown's attention.
A promotional photo showed a couple hiking along a red rock canyon. Brown soon found herself among those red rocks, but there would be no romantic sightseeing.
'As I lay there, dying'
Witnesses at Ray's trial have provided a glimpse inside his self-help world, describing their participation in various seminars as if they were earning merit badges. But the most compelling voice has belonged to Brown. In a tape recording Ray made just hours before she died, she can be heard loud and clear.
The seminar -- five days of meditation, deep breathing exercises, sleep deprivation, role playing, team building exercises and physical hardship -- promised to bring participants into an altered state of consciousness that would transform them. Ray exhorted them not to hold back, to "play full on."
He shamed the ones who did not go all out, and subjected them to peer pressure, according to testimony at his trial.
In the beginning, Brown struggled but kept her game face on. Some of the more experienced participants had paid thousands for Ray's other courses (Harmonic Wealth, a weekend priced at $1,295, and the five-day event Practical Mysticism, at $5,295) and seemed to resent that Brown had not laid that groundwork, said Magnanini. So she just worked harder.
When Brown was determined, she was tough. "She was like an Eagle Scout," Dahly said. "She was the only woman I'd ever let boss me around."
Another friend, Debra Goldstein, recounted a time when Brown gashed her shin while they were traveling in France. She asked for a raw egg and applied the membrane to the wound to stop the bleeding.
"She was incredibly cool the whole time, totally calm," Goldstein said. "It was such a deep cut she must have been in pain, but it didn't stop her."
On the first day of the Sedona retreat, Ray urged his spiritual warriors to shave their heads, or at least cut their hair short, to symbolically shed their ego and vanity. Brown agonized for a day before going through with it. Her long brown hair was her pride, friends said, and Brown always took extra care in styling it.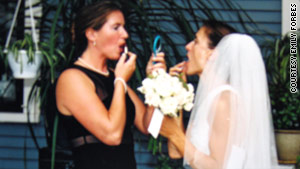 Kirby Brown primps with the bride at Emily Forbes' wedding in September 2002.
"I was 40 minutes late to my wedding because of Kirby Brown's hair," Forbes said.
"Kirby always had to be fabulous," Etesse agreed. "She'd say, 'Always wear your lipstick.'"
But Brown joined the 40 others in lopping off their locks with clippers, according to testimony.
"I can see her saying, 'Seriously, dude?'" Dahly said.
"Kirby always said, 'Whatever it takes.' That was her thing, whatever it takes to get it done. So I can see what she saw in playing full on."
On the third day, Ray put the participants through a Samurai role-playing game in which he dressed in white and literally played God. Brown broke the strict code of silence to ask for a bathroom break and was tapped by one of the dark angels of death.
She fell to the stone floor, where she lay for several hours, forbidden to move or speak. She had to go to the bathroom so urgently, she threw up. She did not get dinner that night and the game left her teary-eyed and shaky, according to witnesses.
But she forged ahead in the next exercise, the 36-hour vision quest. She built a Native-American style medicine wheel in the desert and meditated for 36 hours without food and water.
She described the experience at an open microphone session recorded by Ray and played in court by prosecutors:
"So as I lay there, dying, underneath the blanket, and everyone was working and battling, I just kept sending my energy to them," she said. "And also working on not moving so I didn't kill one of my fellow people."
Hearing the recording played in court, Brown's friends were amazed by how strong and lucid she sounded.
During the vision quest, she said on the tape, "I realized that they're there with us, that those ones that have passed are with us." She told a story about communing with "a powerful figure, Brother Leo Kirby, my grandfather's brother." He was a Catholic priest and when she asked him for advice, he told her: "Keep things simple."
In the next exercise, an eight-round sweat lodge that lasted more than two hours, Brown tried to keep it simple. But the heat was intense, even for someone conditioned by Bikram yoga.
The sweat lodge was built of tarps and sleeping bags and blankets placed over bent branches. It was low, less than 5 feet high, and about 24 feet across. Some 55 participants followed Ray inside, each tying pouches containing their written goals to the rafters.
They then crowded together on the dirt floor to await the "grandfathers," the 55 stones, heated to an orange glow, that were carried in on shovels and placed in a pit at the center of the lodge. Ray poured water on the rocks, creating clouds of steam.
Ray had warned that the sweat lodge would be intense, that they would feel like they were dying. But he assured his spiritual warriors that they would survive, and the experience would forever change them.
"There's no lodge like my lodge," he told them. "When you face your own death, life's never the same."
It was completely dark inside. By the fourth round, people were getting so uncomfortable they were shouting and crawling in the dirt, according to testimony. By the sixth, it really got crazy.
Witnesses describe a ritual gone wrong
Brown began rocking on her haunches. At some point, she curled up on her side and fell unconscious. Witnesses have said she was making sounds that sounded like snoring.
They have also described a horrible death; Brown wheezed and gurgled and foamed at the mouth. Her skin color went from pink to purple.
She and Shore were found side-by-side as the lodge emptied out. They were holding hands. Because he already had carried one woman out, witnesses have said they believe he was comforting her. Brown's friends and family say she could have been comforting him.
The official cause of death was heat stroke.
Saying goodbye
It would take two funerals to properly say goodbye to a woman who had seemed so alive.
A traditional Catholic service was held in her hometown in New York state. Three months after she died, friends and family staged a surfer's paddle-out memorial, followed by a Mexican-style party, in her adopted hometown of San Jose del Cabo.
A small juniper tree has been planted in her memory at Angel Valley, on the site of the former sweat lodge. The "grandfathers" circle the area in a heart shape. Crystals sparkle at its center.
Friends say she didn't look like Kirby at the viewing in New York. Her dehydrated body had been embalmed and appeared bloated. The wig she wore had bangs. But she was there in spirit.
Her brother, Bobby, gave the eulogy, asking mourners a question:
"Can I please see a show of hands of all those present who at one time in their life considered Kirby Brown their best friend?"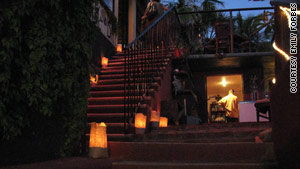 Candles light the steps for a party to remember Kirby Brown at the Havana Supper Club in San Jose del Cabo.
About half of the 100 or so people crowded into the Holy Name of Jesus Catholic Church, raised their hands. He talked to them as Brown would have, saying: "Do not cry for me. I am here with you today ... You speak of the magic and me, but it is I who experience the magic in all of you."
On her behalf, he told mourners to keep laughing, loving, learning and living.
Read Bobby Brown's moving eulogy (pdf)
Kirby Brown was cremated a few days after the funeral. Emily Forbes and Samantha Etesse, who are sisters, cling to last emails and half a lifetime of photographs. Forbes, who sings and plays violin, wrote a rock song for her friend:
"The beauty of our life
Was crystal clear to you
Sometimes you had to shake us
To share the view"
Forbes says she feels "so ripped off" by Brown's death. Their favorite television show, the British comedy "Absolutely Fabulous," features two chummy, cocktail-swilling fashionistas. They often joked that they would someday retire, like "Ab Fab's" Edina Monsoon and Patsy Stone, to rockers on a shady front porch, where cocktail hour would begin promptly at 2:45 p.m.
"I had another 40 years planned with her," Forbes said.
Dahly wasn't able to attend the New York funeral, but the Baja memorial made up for it. It was there, after all, that he'd met Brown after going through a bad breakup, quitting his corporate job and running away to Mexico for a month. He wound up staying for five, forging a deep friendship with her.
"Baby, you need to surf and do yoga and free your soul," she advised him.
He joined Brown's friends and family on the beach near San Jose del Cabo on January 8, 2010 -- exactly three months after her death. Everyone wore blue rubber bracelets as they lined up for one last paddle-out for Brown.
Some rode through the surf by boat, others on their boards, to Old Man's break, where her mother and father scattered her ashes. The water was calm, the currents swirled in a strange pattern, friends recalled. Offshore, a pod of whales cruised by.
All these months later, they still feel the magic of Kirby Brown.
Dahly lost the cell phone on which he'd saved his favorite Kirby voicemail. But he can recite it word for word:
"Billy boy, surf's up! Rise and shine. Come over to the house. It's Easter. Thank you, sweet baby Jesus."
FOLLOW THIS TOPIC