Gas prices in 'firing range' of all-time high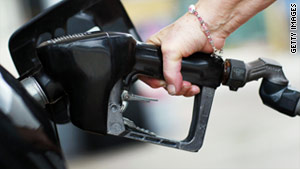 In the latest Lundberg Survey, folks paying the lowest average price were in Tucson, Arizona, at $3.41 a gallon.
STORY HIGHLIGHTS
New average price is 35 cents short of the all-time high
Crude oil prices are pushing the increase, publisher says
Developing nations' demand, weak dollar, unrest push prices up
(CNN) -- Gas prices have jumped more than 19 cents over the past three weeks, approaching the all-time high, according to a survey published Sunday.
The average price of a gallon of self-serve regular is $3.76, the Lundberg Survey found. The previous survey three weeks ago found an average of $3.57.
That means prices are now just 35 cents -- "within firing range" -- of the all-time high of $4.11 set in July 2008, said publisher Trilby Lundberg.
"This doesn't mean that we will get there," she said. "Crude oil will decide."

Where are gas prices heading?

Gas guzzling myth busters
Crude prices have been affected by the unrest in the Middle East, she said, but also by two other major underlying factors: increased demand in developing nations and the weak dollar.
"Unless crude oil relents and slips, we can expect a further rise at the pump because pump prices do not reflect all of the crude oil price hikes that have occurred," Lundberg said.
The latest Lundberg survey, which tabulates prices at thousands of gas stations nationwide, took place Friday. Of the cities surveyed that day, the lowest average price was in Tucson, Arizona, at $3.41. The highest average price was in the San Francisco Bay Area at $4.13.
Here are the average prices in some other cities:
-- Chicago: $4.11
-- Seattle: $3.85
-- Boston: $3.71
-- Houston: $3.67
-- Atlanta: $3.61
-- Memphis, Tennessee: $3.56
-- Denver: $3.49
FOLLOW THIS TOPIC