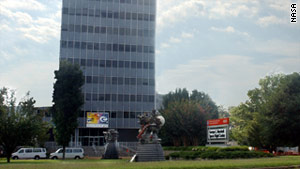 The Marshall Space Flight Center,has about 2,500 government and 3,500 contract employees.
STORY HIGHLIGHTS
Space agency says it is cutting because of budget constraints
Essential Center functions will continue, spokesman says
Center is best known for developing transportation and propulsion technologies
(CNN) -- NASA said Thursday, because of budget constraints, between 150 and 300 contractor positions will be eliminated at the Marshall Space Flight Center, the agency's Huntsville, Alabama facility.
"Funding to Center support contractors will be reduced and that will result in reductions to the contractor workforce here," NASA said in a statement.
Marshall spokesman Dominic Amatore said the furloughs were not wholly unexpected.
"Our director back in January talked about budget issues and at that time, told employees about forming groups to look at expenditures, especially procurement money," he said.
Amatore said Marshall Center director Robert Lightfoot delivered an all-hands message on Tuesday to announce the layoffs.
"The cuts are broadly across the center," Amatore said. "The jobs that are directly affected by this budget involve center operations and maintenance, so it really cuts across the operation."
The contract employees will get additional information from the organizations they work in and, ultimately, from the specific contract companies they work for, Amatore said.
The facility's main priorities are not expected to be affected.
"Marshall Space Flight Center officials have conducted a comprehensive review of all institutional procurement and other expenditures and established funding priorities, ensuring that essential Center functions are maintained and that operational capabilities are in no way compromised," a space agency statement said.
Marshall supports a variety of initiatives for NASA, including engineering, science and space operations, but is best known for developing transportation and propulsion technologies.
The furloughs will be implemented by the end of May, Amatore said.
Amatore said Lightfoot addressed the possible government shutdown Tuesday, and that NASA would identify a "certain core group" that would be essential to operations.
Marshall currently has approximately 2,500 government employees and 3,500 contract employees, he said.
In a statement, Lightfoot said, "As NASA Administrator Charlie Bolden has said, tough times require tough choices. Marshall Center is doing what is necessary to live within our budget and retain the essential capabilities needed to support NASA's mission. We know this is a difficult time for members of our contractor workforce who are being affected by reductions and we intend to assist them in their career transition as much as possible."
In February 2010, President Barack Obama announced plans to conclude the Constellation rocket program, which led to 900 contractor job cuts at Marshall last year.
Despite the layoffs, Amatore said employees remain concentrated on the job at hand.
"We're very focused on flying safely. We've got a space shuttle launch coming up this month," he said. "NASA employees are very dedicated, very focused."