STORY HIGHLIGHTS
McNeil Island is the last U.S. prison that can't be reached by road
It once housed inmates such as Charles Manson and Robert "Birdman of Alcatraz" Stroud
Budget cuts have forced Washington state officials to close the island prison
It's unclear if the facility will become a nature preserve or a museum
McNeil Island, Washington (CNN) -- For over a century the picturesque waters around McNeil Island had a job to do: they kept the inmates in.
Convicted criminals arriving at "the prison without walls" soon found out that attempting to swim the three miles through the frigid Puget Sound was a death sentence.
But after 135 years, Friday will be closing time at McNeil -- and the water off its shores will no longer be needed to deter escaping prisoners.
When McNeil Island Corrections Center first opened in 1875, it was a territorial facility since Washington had not yet gained statehood.
An island prison in the remote Pacific Northwest made sense, at least in theory.
"Puget Sound was the waterway or the highway for carrying out commerce, but it also came with some treacherous problems," said Dick Morgan, the prison's last superintendent.
"You could only travel the water when the weather would allow. So whether or not you had food on the island was a matter of if you could stock a rowboat and get it across three miles of water. Sometimes people would be socked in for a long period of time."

U.S. island prison closes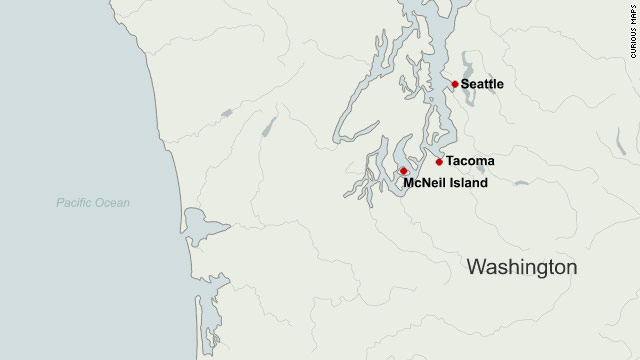 Map: McNeil Island, Washington
Before this week's closing, almost all of the prison's 1,200 inmates and 400-person staff were transferred to other facilities. A separate institution housing sexual offenders remains on the island, but nature is being allowed to retake much of the roughly 7-square-mile island.
Shortly after McNeil's opening, an official described the prison's location as "one of the most impractible (sic) situations that could possibly be selected for an institution of that kind," according to "The McNeil Century," a book on the prison's history.
Moreover, the prison initially was built without living facilities for guards.
Infamous prisoners
Logistical problems aside, McNeil opened for business. The prison's first inmate was a man sentenced to 20 months for selling whiskey to Native Americans.
In 1909, Robert Stroud arrived at McNeil, convicted of murdering a bartender in Alaska in a fight over a prostitute. Arriving at McNeil, Stroud wrote, he was hit with "the old odor of unwashed bodies, unsanitary night buckets, the accumulated filth of years," according to "The McNeil Century."
Stroud was transferred to Leavenworth federal prison after killing a McNeil inmate in a fight over morphine. There, the self-educated prisoner raised birds and eventually became a published expert on avian illnesses.
Whether or not you had food on the island was a matter of if you could stock a rowboat and get it across three miles of water.
--Dick Morgan, McNeil Island prison superintendent
Burt Lancaster portrayed Stroud in "Birdman of Alcatraz," the 1962 movie classic that presented a fictionalized version of his life. In that movie, Stroud is described as reflecting "the ideals of the country whose laws he shattered."
Another infamous prisoner at McNeil was Los Angeles organized crime boss Mickey Cohen, who spent four years there during the 1950s on a tax evasion conviction.
In the prison's crowded cells, the germaphobic mafioso annoyed his fellow inmates by compulsively washing his hands, according to "The McNeil Century."
Charles Manson served just under five years at McNeil in the 1960s. Not long after he left McNeil, he gained infamy for leading the "Manson Family" whose random, brutal killings terrorized California in the late '60s.
But at McNeil, Manson was merely a small-time car thief.
Prison records show Manson left little impression at McNeil other than performing with the prison band and painting a large crimson red pentagram on the floor of his cell.
However, it was train robber Roy Gardner -- once considered the most hunted man in the West -- who gained nationwide notoriety for his 1921 escape from McNeil.
He reportedly escaped during a prison baseball game -- two other prisoners were shot -- only to be caught several months later. After a few other prison stints and attempted escapes, he was eventually transferred to Alcatraz and released in 1938. He wrote an autobiography, "Hellcatraz," about his life inside the more famous island prison.
A prison community
The relative openness of McNeil Island prison and slim chance of escape meant the community of prison employees and their families became accustomed to living among inmates.
"We had inmates as housekeepers; they took care of our yards," said Tim Taylor, who has spent 54 years on the island, first while growing up as the son of a guard and later while working there as a construction supervisor.
"When we had movies on a Friday night, they were the ones who ran the projectors and set the screens up."
Taylor said inmates, under the watchful eyes of guards, crewed the boats to the mainland and drove the island's school buses.
The prison employees' children also met the inmates on the island's baseball diamond.
"Compared to the inmates, we were a bunch of amateurs," Taylor said.
Being the son of a guard did not guarantee the inmates threw any games or slower pitches, he said.
"They would play with us, but they wanted to be the champs," Taylor said. "They were pretty much unbeaten all the years I was here."
At its height, McNeil boasted a community center, swimming hole, burger joint and church. Prison or no prison, many residents said it was an idyllic place to live.
"The community really was the families," said Lawrence Putnam, the last warden of McNeil during its time as a federal prison. "Getting together for the Fourth of July picnics, the bowling alley, going to the church, the school."
Too expensive to run
The prison passed into state hands in 1981 after officials at the Federal Bureau of Prisons decided that the expense of operating an island prison ran too high.
Getting people and material to and from the island meant operating a small navy of boats. Electricity also came from the mainland and drinking water from the prison's water purification plant.
For the next 30 years, the state of Washington also grappled with those same costs.
We had inmates as housekeepers; they took care of our yards.
--Tim Taylor, who grew up on McNeil Island
"The history of McNeil Island is peppered with questions over whether it should be closed or transferred to the state or unloaded by the federal government just because of the marine atmosphere and the problems associated with being an island," said Morgan, the superintendent. "Being an island it turns out is very expensive."
Last year, as the state faced a $4 billion budget shortfall, prison officials announced they would shut down the facility.
McNeil's closure will save the state more than $8 million a year, Morgan said. In the last weeks of McNeil's life, inmates dissembled their own prison. Windows, door locks and kitchen ovens were removed and sent to other state facilities on the mainland as McNeil was readied to be mothballed.
An eerie sense of abandonment already is taking over. Some houses once occupied by prison employees look as if their occupants have just stepped out to run a few errands, not left for the rest of the lives.
Other long vacant homes slowly are being covered in vegetation as nature reclaims the island.
At a closing ceremony for the facility last month, former employees discussed whether the prison island should become a nature preserve off-limits to visitors or a museum to McNeil's storied past.
Many former employees called the closure of the country's last island prison shortsighted and the end of a unique community.
Taylor -- who lived in that community for much of his life -- said he is still figuring out where he will go with the prison gone.
Looking out at the light breaking onto Puget Sound through a copper sky, he had an unlikely reaction to life on a prison island:
"There's so much potential here. You have the woods and the water," he said. "It's just so free."
FOLLOW THIS TOPIC