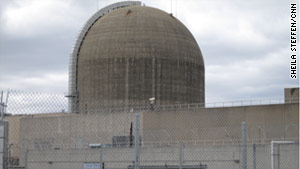 More than 20 million people live within 50 miles of the Indian Point Energy Center in Buchanan, New York.
STORY HIGHLIGHTS
Dozens of U.S. cities with more than 100,000 people are within 50 miles of a nuclear plant
NRC requires evacuation plan for areas within 10 miles of a nuclear plant
But feds say if problem similar to Fukushima happened in U.S., they'd want 50-mile evacuation
Westchester County, New York, official: "We would have to go back to the drawing board"
(CNN) -- If a serious nuclear accident were to happen in the United States, would we be able to evacuate to safety? That question now appears more than academic and all too realistic as the Japanese try to limit the release of deadly radiation from the crippled Fukushima Daiichi nuclear plant.
The chances of a severe accident are extremely remote, according to the U.S. Nuclear Regulatory Commission, but in light of the Japanese accident, the possibility must be considered.
It is a particularly apt issue for those living near a nuclear power plant. Millions do. There are 25 nuclear reactors in the United States located within 25 miles of cities with populations of at least 100,000 people. Another 98 cities of that size are 50 miles or closer to a nuclear power plant. (To see how far you live from a nuclear facility, click here.)
Major city centers in the vicinity of nuclear reactors include: Charlotte, North Carolina, 15 miles from the McGuire facility; Rochester, New York, 17 miles from the Ginna plant; Omaha, Nebraska,18 miles from the Fort Calhoun reactor; and Miami, 25 miles from Turkey Point.
The plant near the largest population center in the country is Entergy's Indian Point Energy Center in Buchanan, New York. Two reactors operate about 25 miles from the limits of New York City and about 35 miles from midtown Manhattan. About 310,000 people live within 10 miles of the plant; more than 20 million live within 50 miles of it.

Is U.S. prepared for a nuclear crisis?

Trace amounts of radiation in U.S. milk

CNN goes inside a nuclear reactor
"There is no way that 21 million people within a 50-mile radius could evacuate," says Rep. Nita Lowey, D-New York.
Some residents near Indian Point are particularly concerned they could suffer health consequences in an accident.
"I don't think we'd be able to evacuate sufficiently," said Michael Crawford, a resident of Peekskill, New York, just two miles from the power plant. "Everyone is panicking, and out of the panicking you're going to get people leaving at the same time."
Westchester County, where the plant is located, has detailed plans for evacuating a 10-mile radius around Indian Point, as the Nuclear Regulatory Commission requires for all such facilities. Westchester's plan includes emergency routing, busing schoolchildren to safety and reception areas outside the 10-mile zone. The exodus would occur gradually, with those closest to the nuclear plant leaving first.
"When we plan our evacuations, the evacuation may initially be for the people living in a two-mile ring and a five-mile downwind span. If the conditions worsen and we need to move more people, then we may move to a five-mile ring and a 10-mile downwind span," said Tony Sutton, commissioner of Westchester County Emergency Services. The county forecasts it would take about nine and a half hours for the 310,000 residents to leave the 10-mile zone.
Westchester officials regularly hold drills at an underground facility, where they practice responding to various crisis scenarios. The Federal Emergency Management Agency monitors the exercise.
While detailed plans are in place for 10-mile evacuations, the crisis in Japan is of another dimension. The U.S. has instructed Americans within 50 miles of the crippled Daiichi Fukushima nuclear plant to evacuate. NRC Chairman Gregory Jaczko has told Congress that's what he would advise for a comparable situation in the United States.
"It's a complete game-changer. We would have to go back to the drawing board tomorrow, and work day and night with multiple agencies, multiple jurisdictions," Westchester County Executive Rob Astorino said.
Astorino added that his office has been questioning the NRC about its advice in Japan because the county is not prepared for evacuation beyond a 10-mile zone around the plant.
In spite of Jaczko's warning for Americans in Japan, Indian Point's operators say they do not envision a crisis as severe as the one at Fukushima, which has six reactors, compared with two in Buchanan.
"There's not a scenario that we have where the dose rates or the radiation would require an evacuation of New York City that has been at least identified up to this point," said Joseph Pollock, vice president of operations at Indian Point Energy Center.
While New York City's Office of Emergency Management is prepared for numerous catastrophes, it does not plan exclusively for evacuating in response to a major accident at Indian Point.
"Plans are there to move people, but plans are not specific to Indian Point. It's an all-hazard plan," said Chris Gilbride, press secretary of New York's Office of Emergency Management.
FOLLOW THIS TOPIC