Winner -- or winners -- of $319 million jackpot still a mystery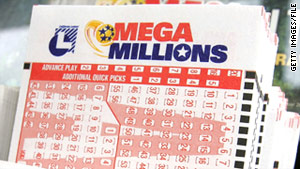 Last-minute ticket sales increased the jackpot from $312 million to $319 million.
STORY HIGHLIGHTS
Officials won't confirm report that seven state employees hold the winning ticket
The ticket was bought at a store in Albany, New York
It's the single largest winning ticket for Mega Millions sold in the state
New York (CNN) -- Despite reports that seven state government workers held the winning $319 million ticket in the Mega Millions lottery, as of Sunday, no one had come forward to claim the prize, a New York Lottery spokeswoman said.
The lottery drawing was held Friday night. Last-minute ticket sales increased the jackpot from $312 million to $319 million, the New York Lottery said.
The winning ticket was bought at Coulson's News Central in Albany, New York.
The winners were seven IT specialists from New York's Housing and Community Renewal, according to Emanuel Biondi, public employees federation council leader for the agency. He didn't disclose any other details.
New York Lottery spokeswoman Carolyn Hapeman said she could not confirm that report.
If the winners chose the cash option when buying the ticket, they will receive a one-time, lump-sum payment of $202.9 million. That amount reflects all the cash in the Mega Millions pool and is the sixth-largest jackpot in its history, according to Hapeman.
It's also the single largest sole jackpot-winning ticket ever for Mega Millions sold in New York, she said.
Friday night's winning numbers were 22, 24, 31, 52 and 54. The Mega Ball number was 4.
Those holding the winning ticket will be able to collect the prize money Monday morning in the Schenectady, New York, office, Hapeman said.
Mega Millions is played in 42 states and is the biggest jackpot game in the country, according to the lottery.
CNN's Deborah Brunswick contributed to this report.
FOLLOW THIS TOPIC