Woman escapes deportation until status of same-sex marriage made clear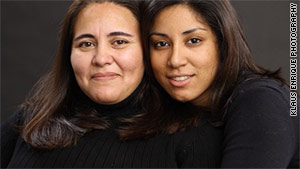 Monica Alcota, left, of Argentina and Cristina Ojeda, a U.S. citizen, were married in Connecticut last year.
STORY HIGHLIGHTS
Judge delays deportation hearing; case resumes in December
Monica Alcota of Argentina has overstayed her tourist visa
Alcota married her female partner, a U.S. citizen, in 2010
Same-sex marriage advocate says decision is "breakthrough moment"
New York (CNN) -- An Argentine woman living illegally in the United States after overstaying her tourist visa will not be deported until the legality of her same-sex marriage is made more clear.
Judge Terry A. Bain and government attorneys agreed Tuesday to halt deportation hearings in Manhattan's immigration court for Monica Alcota, 35, who came to the United States from Argentina more than 10 years ago.
Alcota and Cristina Ojeda, 25, a U.S. citizen, were married in Connecticut in 2010 and are arguing that their marital status should allow Alcota permanent residency, their attorney, Lavi Soloway, said. The Connecticut Supreme Court has ruled that gay and lesbian couples have the right to get married.
Soloway said no specific reason was given for the judge's decision to delay the hearing but added that Bain and the government attorneys were in agreement with several general reasons, including President Barack Obama's direction to the Department of Justice to enforce, but not defend, Section 3 of the Defense of Marriage Act, or DOMA. The act defines marriage as the union between a man and a woman.
"The judge's decision was in line with the Department of Justice's position and was appropriate given that the legality of the deportation will depend on what happens with DOMA," said Nancy Morawetz, a professor of clinical law at New York University Law School in New York City. Morawetz said the decision was important in that many issues involving immigration law depend on marital status.
Attorneys representing U.S. Immigration and Customs Enforcement would not comment on the specifics of Alcota's deportation proceedings. But Barbara Gonzalez, the agency's acting press secretary, said, "It is not uncommon for ICE to agree to adjournments."
Gonzalez emphasized that the agency has "not implemented any change in policy" and continues to enforce the law.
The Defense of Marriage Act was signed into law by President Clinton and, in addition to banning federal recognition of same-sex marriages, it also says that states cannot be forced to recognize such marriages from other states.
Steve Rolls, spokesman for Immigration Equality, a national organization that advocates for the rights of same-sex immigrants, praised Tuesday's decision.
"We believe that it is appropriate for the administration, given its new stance on the constitutionality of DOMA, to stop denying green card applications for the spouses of American citizens," Rolls said. He called the decision a "breakthrough moment for lesbian and gay families."
Catholic League President Bill Donahue called the judge's decision "regrettable."
"Two women have been excluded by nature to have a baby," Donahue said. "That's why this entire discussion is based on an attack on nature."
The couple is expected back in court in December to review their petition status.
FOLLOW THIS TOPIC