News conference set for shuttle Endeavour crew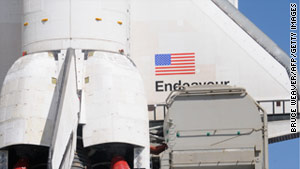 Space shuttle Endeavour's final mission is scheduled for launch on April 19.
STORY HIGHLIGHTS
This will be the 36th shuttle mission to the International Space Station
The mission is scheduled to last 14 days
Shuttle commander Mark Kelly is the husband of wound U.S. Rep. Gabrielle Giffords
Giffords was shot in January and has been recovering
(CNN) -- The crew of the space shuttle Endeavour is scheduled to hold a news conference Thursday in Houston ahead of next month's final mission for the spacecraft.
Mark Kelly, husband of wounded U.S. Rep. Gabrielle Giffords, will command the mission set for April 19 at Kennedy Space Center in Florida. This will be the 36th shuttle mission to the International Space Station.
"During the 14-day mission, Endeavour will deliver the Alpha Magnetic Spectrometer (AMS) and spare parts including two S-band communications antennas, a high-pressure gas tank, additional spare parts for Dextre (a robot attached to the outside of the space station) and micrometeoroid debris shields," the NASA website says.
Kelly has said that he's optimistic that his wife can attend the shuttle launch.

Giffords' husband to return to space
Giffords is being treated at TIRR Memorial Hermann rehabilitation hospital in Houston, near where Kelly and his crew are training, after being shot in the head January 8 at an event in Tucson, Arizona. Six other people, including a federal judge and a 9-year-old girl, were killed.
"I am hopeful that can happen," he said in a recent telephone news conference.
"I am really encouraged," Kelly said of his wife. "She is doing well. She continues to improve daily."
Kelly told reporters Tuesday there was no set deadline for making a final decision about whether Giffords will be able to make the journey to Florida for the shuttle takeoff.
"We are looking at that right now," he said.
FOLLOW THIS TOPIC