Weekend Gulf oil spill traced to Houston firm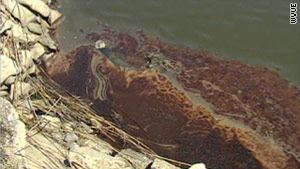 STORY HIGHLIGHTS
NEW: Coast Guard says it received three reports of possible oil over the weekend
Testing shows that oil washing up at Grand Isle, Louisiana, belongs to a Houston firm's well
The company has sent its cleanup contractor to remove the material
(CNN) -- Testing on oil samples recovered from the Gulf of Mexico near Grand Isle, Louisiana, shows the material came from a defunct well owned by a Houston company, according to a spokeswoman for the state Department of Wildlife and Fisheries.
The oil that began washing up in Grand Isle on Sunday was one of three reports the agency received of possible oil contamination of the Gulf over the weekend, said Coast Guard spokesman Lt. Cmdr. Chris O'Neil.
The other involved a large slick that was nothing more than silt from dredging operations in the Mississippi River delta, O'Neil said, while the other two appear to be linked to a well owned by Anglo-Suisse Offshore Partners.
O'Neil said the Coast Guard is still conducting tests and has not conclusively linked the oil to the Anglo-Suisse well, but Olivia Watkins, a spokeswoman for the state wildlife department, said its testing showed the oil did come from that well.
The company said in a statement Wednesday afternoon that it did not believe it was the source of the spill, but had nevertheless dispatched its cleanup contractor to oversee efforts to remove the oil, which the Coast Guard said had impacted an estimated half-mile of shoreline. The company said its well has not been leaking and had not produced oil since 2005.
The spill comes as Grand Isle and the rest of the Gulf prepares to mark the one-year anniversary of the April 20, 2010, explosion aboard the Deepwater Horizon oil rig. Eleven workers died and the resulting spill released an estimated 205 million gallons of oil into the Gulf.