Strong winds whip up Colorado wildfire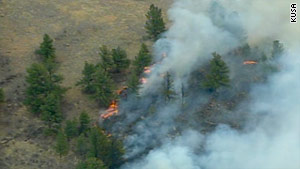 STORY HIGHLIGHTS
NEW: The blaze is between 20% and 25% contained
It has so far burned about 1,200 acres
17 homes have been evacuated; 700 others are on standby
(CNN) -- Firefighters battling a 1,200-acre Colorado wildfire faced high winds Tuesday, officials said, complicating efforts to control the blaze that has so far forced the evacuation of 17 homes.
Some 700 additional homes are on standby for possible evacuation, if conditions worsen, according to Jacki Kelley, a spokeswoman with the Jefferson County Sheriff's Office.
The blaze was 20% to 25% contained Tuesday afternoon.
The National Weather Service issued a "red flag" warning for parts of Jefferson County on Tuesday, warning that a combination of high winds and low humidity would create extreme potential for fire growth. Jefferson County is just west of Denver. Winds of 40 to 50 miles per hour were forecast, with gusts up to 65 mph possible.
Some 200 firefighters are helping to battle the blaze, said Kelley. No injuries have been reported.
The current cost of the fire to date is $680,000, according to an estimate from the sheriff's office.