DHS launches program for workers to self-check eligibility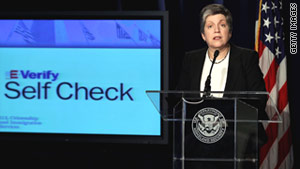 STORY HIGHLIGHTS
The program will allow people to troubleshoot possible employment issues
It's a companion program to a system used by employers
Homeland Security officials say it should be available nationwide this month
Washington (CNN) -- The Department of Homeland Security launched a new program Monday that will allow people in the United States to make sure they are legally eligible for employment before they look for jobs.
The program is called E-Verify Self Check and is a companion program to the E-Verify program, in which employers run computer checks to make sure their employees are in the United States legally.
With E-Verify Self Check, someone who wants to look for a job can first run a computer check on his or her own status to troubleshoot possible problems. According to a DHS statement, this new system "allows each user to identify data inaccuracies -- which often range from typographical errors to unreported name changes."
If workers discover inaccuracies, they are advised to submit corrections so DHS and the Social Security Administration can verify and correct the data before the workers apply for jobs and run into trouble.
Homeland Security Secretary Janet Napolitano said the Self Check program "is voluntary, it's fast, it's free."
Safeguards against identity theft and other types of fraud have been built into the system so only the person in question can run a self check, DHS officials said. A person who is running a computerized self check would be required to take an "identity assurance quiz" based on personal information.
The new program is available now in Arizona, Idaho, Colorado, Mississippi, Virginia and the District of Columbia, but DHS officials hope to make it available for nationwide use by March 2012.
Businesses use E-Verify on a voluntary basis. According to Alexjandro Majorkas, director of U.S. Citizenship and Immigration Services, the checks are accurate more than 96% of the time. In fiscal year 2010, employers ran 16.5 million checks on employees. Currently 255,021 employers use the E-Verify system.