After cutting force by half, crime-ridden Camden rehires 50 cops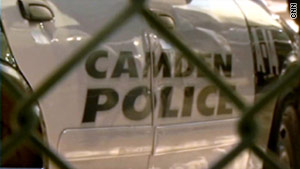 In January, 168 police officers and 67 firefighters were laid off because of a $26.5 million budget gap.
STORY HIGHLIGHTS
Facing a $26.5 million budget gap, Camden laid off police and firefighters
The January layoffs took 168 officers and 67 firefighters off the payroll
Now, the city is rehiring 50 of those officers with money from a state fund
The mayor says a long-term budget solution is still needed
(CNN) -- After cutting nearly half of its police force in January. the city of Camden, New Jersey, announced Thursday that it is rehiring 50 of the 168 police officers laid off.
In an agreement between Camden officials and New Jersey Gov. Chris Christie, the city will have access to $2.5 million from what is known as a "payment in lieu of taxes," or PILOT, state fund. Camden's Mayor Dana Redd will rehire 50 police officers and 15 firefighters.
"Public safety is our primary obligation as elected officials," Redd said in a press release.
The funding will allow Camden to supplement existing patrols through the spring and summer, but a long-term solution is still needed, Redd said.
When asked if crime had increased during the two months since the cuts, the mayor's spokesman, Robert Corrales, said only, "Crime, in general, ebbs and flows and to pinpoint it on layoffs is just inconclusive."
Redd pledged to keep working with the governor and local officials to find and implement a long-term plan.
"In difficult fiscal times like these, we must work harder (and) be more creative and realistic to find the best, most cost-effective ways to meet our public safety obligations," Redd said.
In January, 168 police officers and 67 firefighters were laid off due to a $26.5 million budget gap. Camden, a city with the second-highest crime rate in the nation, was left scrambling to figure out solutions to keep residents safe.
Camden is second only to St. Louis in annual crime-rate rankings of cities, with the rankings based on compilations of FBI crime statistics.
Calls to Camden's Fraternal Order of Police on Thursday were not immediately returned.
FOLLOW THIS TOPIC