Work resumes at space shuttle launch pad where worker died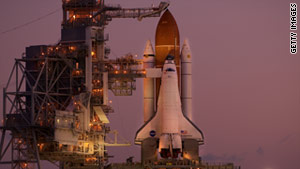 A man fell to his death Monday while working at the launch pad of the space shuttle Endeavour.
STORY HIGHLIGHTS
NASA managers met with employees Tuesday morning
The workers said they wanted to go back to work, NASA says
Swing-arm engineer James Vanover fell to his death Monday
(CNN) -- Work on the final flight of the space shuttle Endeavour resumed Tuesday morning, just one day after a NASA contract worker fell to his death at the launch pad.
NASA managers met with employees who work at the Kennedy Space Center's Launch Pad 39A Tuesday morning, before work was resumed, to gauge how employees were doing following the death of James Vanover on Monday.
The space agency said pad workers expressed a desire to go back to the work of readying Endeavour for launch.
Vanover was an employee of United Space Alliance, the prime contractor for the U.S. space shuttle program.
"He fell at the pad, and NASA emergency medical personnel responded but were unable to revive him," Kennedy Space Center spokeswoman Candrea Thomas said.
Vanover was a swing-arm engineer, United Space Alliance spokeswoman Kari Fluegel said. He supported work on the gaseous oxygen vent hood as well as the orbiter access arm, which is the passageway through which astronauts enter the space shuttle.
Relatives told CNN affiliate WKMG that Vanover had worked for 30 years at the Kennedy Space Center and had a new job lined up after he was to be laid off in the coming weeks, along with many others affiliated with the space shuttle program.
Fluegel said the man's body was found on another level of Launch Pad 39A. NASA has not indicated what caused him to fall.
"The incident is under investigation," Thomas said.
All work at the launch pad was suspended after the incident.
Allard Beutel, a NASA spokesman, told WKMG that "other than the fact it is a dangerous environment, there was nothing major, no hazardous operation taking place. It wasn't like they were fueling up the shuttle -- it was nothing like that."
Counseling and employee assistance are being provided to Kennedy Space Center workers, NASA said.
Virginia Barnes, the CEO of the United Space Alliance, offered her "heartfelt sympathy" to Vanover's family.
"Our focus right now is on providing support for his family and for his co-workers," she said in a news release.
On Tuesday, pad workers will be performing checks on the power reactant storage distribution system, which holds super-cold liquid oxygen and liquid hydrogen for use by the shuttle's three fuel cells to produce electricity during flight.
They will also work on the external tank's camera.
Endeavour is scheduled to blast off on its final mission April 19.
FOLLOW THIS TOPIC