STORY HIGHLIGHTS
Mushers attempt to guide a team of up to 16 dogs across more than 1,131 miles
Dallas Seavey, a third-generation musher, first entered the Iditarod at age 19
His father, Mitch, won in 2004
Anchorage, Alaska (CNN) -- The famed Alaskan dog sled race, the Iditarod, is under way this week with a field of 55 teams still in the race between Anchorage and Nome. It's billed as "The Last Great Race on Earth," and it requires abiding endurance and unimaginable mental stamina from all who enter.
Each musher will attempt to guide a team of up to 16 dogs for approximately 10 to 17 days across more than 1,131 miles of windswept, desolate tundra and crooked, mountainous terrain. Winning is supreme, of course, but in a sport so extreme, just crossing the finish line awards bragging rights few could ever challenge.
Dallas Seavey, 23, of Willow, Alaska, knows a thing or two about toughness in competition. Once a promising Olympic wrestling hopeful before an injury sidelined his career, Seavey was a junior national champion in Olympic-style wrestling, a member of the 2005 Junior World Team and was ranked fourth on the Senior World Wrestling Team.
"I have always been competitive," Seavey said. "I am going to stay competitive one way or the other... So, now I am a dog racer... I train sled dogs."
At the age of 19, Seavey was the youngest person to ever enter the Iditarod. He now represents the third generation of mushers in the Seavey family; his grandfather Dan helped to found the Iditarod in 1973 and finished third in the race. His father, Mitch, is the 2004 Iditarod champion and was also competing this year until a severe hand injury forced him to withdraw this week 444 miles into the race.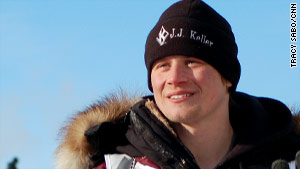 Dallas Seavey was once a promising Olympic wrestling hopeful.
Seavey says mushing dogs is now his primary focus. He and his wife, Jen, now own their own kennel where he breeds and trains the dogs.
"It is definitely a passion... there is a lot to it, a lot of history in our family, and so it is a real privilege to be part of that," Seavey said.
The Seavey family also operates a successful sled dog tour business in Seward, Alaska, which Seavey says funds the race entrance fees for him and his father.
"The racing part is not so much a business, it is a hobby. It is an expense. The summer tourism is the business that makes it where we can afford our hobby," Seavey said.
However, don't mistake Dallas Seavey for a kid still training in his father's footsteps. Just last month, Seavey surprised a competitive field of 25 mushers and veterans of the sport by claiming first place in the 1,000-mile Yukon Quest International Sled Dog Race from Whitehorse, Yukon Territories, to Fairbanks, Alaska. He also now holds the record as the youngest winner in that race's 27-year history.
Less than three weeks later, Seavey now has a bull's eye set on the Iditarod.
"I want to win the race. Maybe not this year, maybe not next year, but eventually."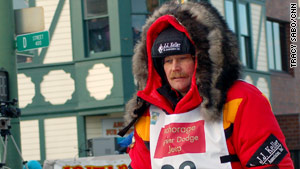 Mitch Seavey is the 2004 Iditarod Champion.
Given Seavey's many early accomplishments, it's not particularly surprising that he isn't intimidated by his elder and more experienced mushers in the race.
"You know, I feel just as much camaraderie with the 50-year bracket as the 20-year bracket... We are all just mushers out here... We all have a lot in common that is pretty unique and somewhat rare, so I think there is a lot of camaraderie throughout the entire sport."
While age may not be a factor, Seavey does contend his prior success in wrestling may give him an upper hand in the mental endurance aspect of this race.
"I don't think you can wrestle at that level and not be changed mentally. For me, I had a lot of concussions," he said.
"I don't know if that counts, but to reach those levels at any sport, you are going to change. You are going to have to have some sort of toughness in there, and I do think that is a major factor on the Iditarod."
Seavey is quick to point out, "it takes some guts to get out of a checkpoint after three or four hours once you have been on that trail for 10 hours, especially when it is 50 below and blowing like a...", Seavey chooses to stop there with a wry smile. He realizes fans and critics are already analyzing his every move rather closely. After all, he could potentially be the youngest leader in the next generation of great Alaskan Iditarod mushers.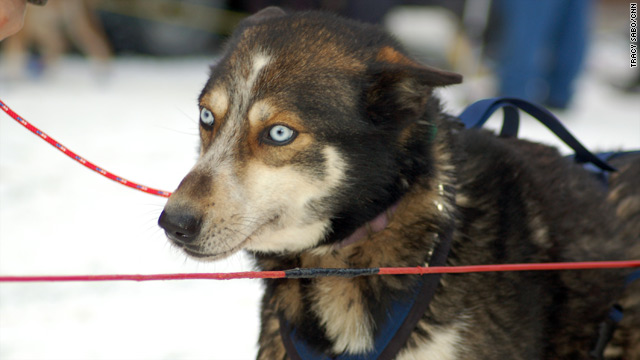 Gallery: Iditarod dog race gets under way
So, what are Seavey's chances in this year's Iditarod? Now more than 360 miles into the race, he ranks among the top 15. He recognizes that many race analysts are predicting another repeat by 2010 Iditarod champion and four-time consecutive winner Lance Mackey, an Alaskan favorite in the race.
Seavey, however, doesn't seem sold on all the hype. "You have got to beat them all to win the race. He is not just one musher. You never count the other guys out, you know. It doesn't matter who won the last couple of years... you have got to beat them all," Seavey said.
Champion Lance Mackey agrees and concedes Seavey is indeed a threat after proving his meddle with the recent Yukon Quest win. Mackey admits he will be watching Seavey closely in this year's Iditarod.
"You can't leave anyone out. There is always going to be a breakthrough musher, and you know I was that guy nobody was thinking about and here I am... just because they have been at the back of the pack for the last five years doesn't mean they will be this year. I take them all seriously," Mackey says.
No matter who wins this year's Iditarod, Seavey believes the monetary gift at the finish line in Nome is only part of the prize.
"You realize there are very few people who can or are doing what you are doing right now. The connection with your dogs is incredible. Watching these dogs develop over the years is amazing, and it is just... it is a neat situation... being in the middle of nowhere with your sled dogs is a pretty cool feeling."