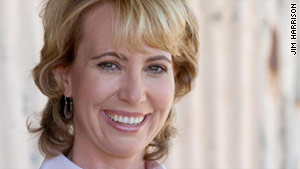 Rep. Gabrielle Giffords was shot on January 8 in the parking lot of a Safeway grocery store in Tucson, Arizona.
STORY HIGHLIGHTS
A doctor described Giffords' condition as "quite remarkable and better than we expected"
The man accused of shooting her and 18 others has been indicted on 49 charges
Rep. Giffords plans to go to the shuttle Endeavour launch, her spokesman says
(CNN) -- A doctor treating Arizona Rep. Gabrielle Giffords described her condition as "quite remarkable and better than we expected" during a news conference Friday in Houston, Texas.
Giffords has shown "better movement and better speaking," while enduring three hour daily rehabilitation sessions, according to Dr. Gerard Francisco.
"She is already speaking in full sentences," said Dr. Dong Kim, who indicated Giffords is walking and has demonstrated "a good memory span."
Her spokesman said Thursday that her progress has been significant enough that Giffords plans to attend next month's launch of space shuttle Endeavor which will be commanded by her husband.
But her doctors would not confirm Giffords' planned attendance.
"If the goal is for her to witness the launch in April, then our number one concern is that it will be safe and appropriate to do that," said Francisco.
He added that "it's still too early" to know.

Jared Lee Loughner indicted on 49 counts

Tucson shooting suspect in court
After spending the days after the shooting at his wife's hospital bedside, Capt. Mark Kelly decided in February that he would continue his assignment as the mission commander.
At the time, Giffords' spokesman C.J. Karamargin said the Arizona Democrat "fully understands" that her husband is flying the shuttle and supports his decision.
"I have every intention for her to be at the launch," Kelly said then.
On Thursday, Karamargin said that Giffords is well enough to make the trip from Texas to Cape Canaveral, Florida.
Endeavor is set to lift off April 19 from Kennedy Space Center, according to NASA's website. It will be the final mission for the Endeavour, and the second-to-last one for the entire space shuttle fleet.
Giffords has been at a Houston hospital -- not far from where Kelly does most of his training at Johnson Space Center -- since January, when she was moved there from University Medical Center in Tucson.
Giffords was shot at a "Congress on Your Corner" event on January 8 in the parking lot of Safeway grocery store in her hometown.
Six people were killed in the incident. The congresswoman, who authorities say was the main target, was among 13 injured.
On Wednesday, a federal judge in Arizona entered "not guilty" pleas on behalf of Jared Lee Loughner, a 22-year-old Arizona man who faces 49 counts -- including murder and attempted murder -- related to the shooting.
Judge Larry Burns also scheduled a May 25 competency hearing for Loughner, and attorneys on both sides will be allowed to hire their own experts to evaluate Loughner's competency to stand trial.
CNN's Danielle Dellorto and Sabriya Rice contributed to this report.
FOLLOW THIS TOPIC