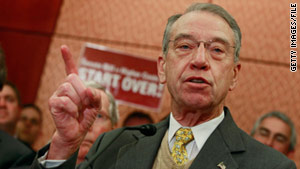 Sen. Charles Grassley said the ATF allowed a Phoenix man to make repeated purchases of guns after his name had been entered into a "suspect person database."
STORY HIGHLIGHTS
Two guns were found near the site of a Border Patrol agent's fatal shooting
The ATF allowed the guns to go to a suspected gun trafficker, Grassley says
An assistant attorney general says the ATF "makes every effort" to stop gun trafficking
The ATF is forming a panel to review the agency's "current firearms trafficking strategies"
Washington (CNN) -- Two AK-47 assault rifles found near where a U.S. Border Patrol officer was fatally shot were among hundreds of guns federal authorities let pass into the hands of known and suspected gun traffickers in a flawed attempt to track the weapons to Mexican drug cartels, a U.S. senator says.
Under Project Gunrunner, the Bureau of Alcohol, Tobacco, Firearms and Explosives allowed known and suspected gun smugglers to purchase hundreds of weapons in the hope that they could be traced to their ultimate destination, believed to be border region crime syndicates.
But Sen. Charles Grassley, an Iowa Republican, said the ATF lost track of hundreds of those guns, including the two found in Rio Rico, Arizona, at the shooting of Border Patrol agent Brian Terry.
"Terry lost his life in that firefight and may have been killed with one of those two rifles," Grassley wrote in a letter to Attorney General Eric Holder complaining that the ATF was "stonewalling" his investigation into the matter.
In an account published in the Los Angeles Times, the ATF said there is no evidence the guns were used to kill the agent.
And the allegation the ATF knowingly allowed the sale of assault weapons to a straw purchaser who then transported them into Mexico is "false," according to Assistant Attorney General Ronald Welch.
"ATF makes every effort to interdict weapons that have been purchased illegally and prevent their transportation to Mexico," Welch wrote in a February 4 letter to Grassley.
On the "CBS Evening News" Thursday, an ATF whistle-blower, Agent John Dodson, said the ATF intentionally allowed guns to go into Mexico. "We've been doing it every day since I've been here," the Phoenix-based agent said. Dodson said he feels the ATF is partially to blame for the escalating violence in Mexico.
Just minutes before the CBS broadcast Thursday, ATF Acting Director Kenneth Melson issued a statement saying the agency is forming a panel to "review the bureau's current firearms trafficking strategies employed by field division managers and special agents."
"This review will enable ATF to maximize its effectiveness when undertaking complex firearms trafficking investigations and prosecutions," he wrote.
The Justice Department also said it has asked its independent inspector general to evaluate concerns about Project Gunrunner.
According to Grassley, ATF agents have told his staff "the agency allowed the sale of assault rifles to known and suspected straw purchasers for an illegal trafficking ring near the southwest border."
There should be a full investigation into the whole Project Gunrunner. From all appearances, that program was out of control.
--T.J. Bonner, president of the National Border Patrol Council.
Specifically, he said, the ATF allowed a Phoenix man -- Jaime Avila -- to make repeated purchases of guns after his name had been entered into a "suspect person database" on January 13, 2009. On January 16, Avila bought three AK-47 assault rifles from a store, and over the next several months, "ATF continued to track Avila's multiple firearms purchases in near real-time, including the purchases of .50-caliber rifles in June 2010," Grassley wrote.
But while the agency kept track of Avila, it did not keep track of the guns, Grassley said.
In December of 2010, 11 months after Avila purchased the assault weapons, they were recovered near the Brian Terry shooting scene, he said. The guns were identified through their serial numbers, he said.
"It's hard to accept that our son was shot and murdered with a gun that was bought in the U.S.," the agent's stepmother, Carolyn Terry, wrote in an e-mail to Grassley. "I truly feel that our son's death is a cover-up and they hope that we will go away. That will not happen. We want to know who allowed the sale of that gun that murdered our son."
Grassley included the e-mail in his February 9 letter to Holder.
Rank-and-file Border Patrol agents are also upset by the case, said T.J. Bonner, president of the National Border Patrol Council.
"It just doesn't make any sense to me or Border Patrol agents that I've talked to," Bonner said. Drug cartels "may have gotten weapons elsewhere, but why make it easy for them?"
"There should be a full investigation into the whole Project Gunrunner. From all appearances, that program was out of control," he said.
Bonner said it is routine for law enforcement agencies to conduct controlled sales and purchases of contraband, but not to let guns go across the border, where they predictably could be used in crimes.
"What is the end game here? It's not clear in my mind," he said.
In a story published by the Center for Public Integrity, which is investigating the ATF program, Mark Chait, the ATF's assistant director of field operations, is quoted as saying he personally decided to change the strategy. Chait was speaking about a change in policy to not arrest the first straw purchaser of a firearm, but to go after those deeper in the organization through investigative techniques, ATF spokesman Scot Thomasson told CNN Saturday.
Chait changed the policy after years of futile efforts focusing on small-time straw buyers left little hope of dismantling major drug trafficking operations, the center said.
The agency's earlier focus on straw buyers was criticized last fall in a review by the Justice Department's inspector general.
The report said the ATF should focus on "higher-level traffickers, smugglers and the ultimate recipients of the trafficked guns."
In the Terry shooting case, agents arrested Avila soon after the shooting and charged him with making illegal gun purchases. While several suspects have been arrested in the case, no one has been charged in the shooting, which authorities believe was done by Mexican bandits who were in the Arizona desert to prey on illegal border crossers.
Grassley said he wants to know what happened to other guns mentioned in the Avila indictment and related indictments.
The indictments, Grassley said, accuse Avila and others of buying 769 firearm, but refers to the recovery of only about 103 weapons.
"So, where are the other approximately 666 weapons referenced in the indictment? Why did the ATF not seize them?" he asks in the letter to Holder.
FOLLOW THIS TOPIC