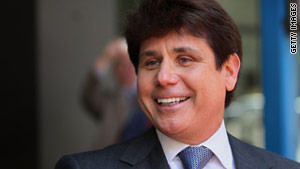 Students in Illinois will be hearing more from their former governor.
STORY HIGHLIGHTS
Sex offender to be freed after castration
New bill would require drivers to start strapping their pets in with seatbelts
Puppy survives euthanasia
Health inspectors crack down on vendors selling illegal bathtub cheese
(CNN) -- Here is a quick glimpse of some of this week's quirky stories that you may have missed, courtesy of our CNN affiliates.
Blagojevich lands new gig
Former Illinois Gov. Rod Blagojevich has a new job as a keynote speaker for the largest high school student-run organization in the country.
Bathtub cheese warning issued
In Bakersfield, California, state and local health inspectors are teaming up to catch vendors selling illegal bathtub cheese. The homemade cheese is known to be tainted with harmful bacteria.
Cops say woman was folded into couch
A man is arrested and accused of folding a 66-year-old Palmetto, Florida woman into a fold-out couch. The man is the victim's daughter's ex-boyfriend.
Burned out gas station touts 69¢ gas

Puppy survives euthanasia
An Elk Grove, California, gas station owner whose business burned this week is making light of the situation and played a joke on drivers telling them to "Get it While it's Hot" and advertising gas for under $1.
1,100-year-old canoe discovered
The pouring rain didn't stop a team of archaeologists from digging up a part of Florida's past. Teams spent Tuesday morning in St. Petersburg unearthing what is estimated to have been a 45-foot-long pine canoe that is believed to be over 1,100 years old. The age of the canoe was confirmed by radiocarbon testing, researchers said.
Sex offender to be freed after castration
A convicted sex offender is set to be freed in Port Allen, Louisiana, after serving only half his sentence, but only because he allowed doctors to castrate him.
Michael Vick to be honored as hero
Michael Vick is being honored as a hero next month at a black-tie event in Norfolk, Virginia, for his "resilience in overcoming obstacles" and becoming "a true example of life success for all to emulate," according to event organizers.
New bill would require dogs to wear seatbelts
Tennessee drivers may soon have to start strapping their pets into seatbelts. Under a bill sponsored by Rep. Jim Cobb, dogs or other animals must be restrained while in the interior of a motor vehicle in motion.
Puppy survives euthanasia
He was euthanized, declared dead and left in a dumpster, but somehow a 3-month-old Sulphur, Oklahoma, puppy is alive and now has whole new future ahead of him.